There are a lot of things to say about fake people showing fake love, but not all of them really get the message across. Today, we will show you the best fake love quotes for him or her that you can share on your WhatsApp status, Facebook, Instagram stories, or any other of your favorite platforms.
When your love is genuine and you cherish every second of your life, it brings happiness into your existence. And so it would hurt to see or perceive fake love from someone who may be close to you or a loved one.
Honestly, not all friendships are genuine; someone you may take a bullet for may be the person at the other end of that gun. No one deserves to be surrounded by fake lovers especially when you stay true to them and your intentions pure.
These quotes below hit on every spot of fake love in relationships, friendships, and where possible. Let's exercise caution to make sure that the love we give is what we received and be able to see through the fake smiles of inauthentic people.
160 Fake love quotes straight from the heart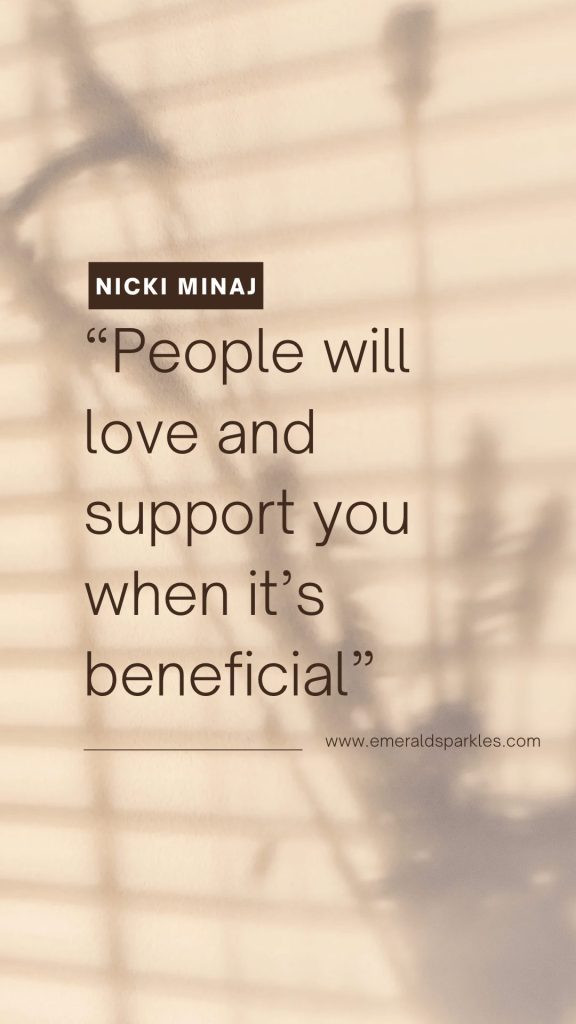 Related: How To Get Over A Breakup Fast – 7 Expert Tips
"People will love and support you when it's beneficial" –Nicki Minaj
"Best friends have 11 letters, but so does Backstabber." – Wiz Khalifa
"Over a small misunderstanding, God will expose how people really feel about you…" – Gugu Mofokeng
"What's the whole point of being pretty on the outside when you're so ugly on the inside?" – Jess C. Scott
Fake-loving people don't surprise me anymore, loyal lovers do. – Steve Maraboli
"Before you count your friends, make sure you can count on them. Some friends are only around when they want something from you but are never there when you need something from them." – Rashida Rowe
"Tired of fake people, fake smiles, fake hugs, fake friends, false hopes"–Unknown
"As I get older, I realize just because I'm invited doesn't mean I have to accept."― Carlos Wallace
"If I doubt your intentions I will never trust your actions" – Carlos Wallace
"Fake Love is common in this world full of lies and tricky people. Sometimes life seems like Game of Thrones." ―Unknown
"I don't hate you. I'm just disappointed" – Zakiya and Mahid
"The worst crime is faking it"–Unknown
"Money makes the world and your family turn"– Omar Hickman
"Many of us believe that when we give love, we are getting the love back but sometimes it's just an illusion of what we gave them." – Akash B Chandran
"One should have the ability to distinguish between real and fake. Especially real and fake Love." – George Femtom
"Real recognizes real. Fakes flock together."–Unknown
"My fake plants died because I did not pretend to water them"– Mitch Hedberg
" I got fake people showing fake love to me" –Unknown
"Fake relationships and fake people coming up to me and all of a sudden wanting to be my friend" – Jason Ritter
"Being too nice is a crime today. Fake friends are everywhere around you. They will use you and when you are of no use, throw you away like a wrapper ." ― Shira
"There're a lot of fake people in the world, but before you judge them, make sure you're not one of them"–Unknown
"Letting go of toxic people in your life is a big step in loving yourself." – Hussein Nishah
" I was so blindfolded by your fake love"–Unknown
"People wear masks of lies so that they look attractive, so be careful"– Muhammad Saqib
"Hatred imprisons the haters; love opens doors." – Debasish Mridha
"People only throw shade on what's shining." ― Genereux Philip
"Love is blind, but friendship closes its eyes"– Friedrich Nietzsche
"I love fake people, provide they are mannequins" –Unknown
"The most important thing in acting is honesty. If you can fake that, you've got it made." – George Burns
"A genuine enemy is more useful than a fake friend." ― Mokokoma Mokhonoana
"You can't always go by actions because some people will ACT like they love you just to get what they want from you" – Sonya Parker
"It's better to be lonely than to be played by the wrong people"–Unknown
"You will never have to question the intentions or integrity of people who have your best interest at heart." – Germany Kent
"Some people think that the truth can be hidden with a little cover-up and decoration. But as time goes by, what is true is revealed, and what is fake fades away." – Ismail Haniyeh
"Real love is what you feel. You see it, and you show it! But fake love is just made of words"–Unknown
"I have chosen my growth. Whatever that weighs me down shall be cut off"–Unknown
Spend your time with those who love you unconditionally, not with those who only love you under certain conditions. – Suzy Kassem
"Someone who smiles too much with you can sometimes frown too much with you at your back." – Michael Bassey Johnson
"Stay real, stay loyal, or stay away from me"–Unknown
"Always be careful of your friend who loves your enemy; you either trust such a fellow for your life or for your death!" ― Ernest Agyemang Yeboah
"I love listening to fake words when I know the truth"–Unknown
"If I doubt your intentions I will never trust your actions." – Carlos Wallace
"Sometimes it's not the person who changes, it's the mask that falls off." – Mhaj Porras
"Fake love is like a window. You think you are seeing a world through it. But the only barrier between you and the world is a window"–Unknown
"A true friend never gets in your way unless you happen to be going down." – Arnold H. Glasow
"People. Falling for each others' pretensions, fakeness, and whatever various faces they can put on to wear. And then they call it love. What a fantasy. What blasphemy. Humanity bores me." – C. JoyBell C.
"If you want to be my friend, I prefer honesty to fake praise." – Christina Strigas
"My mom and my dad was the best example of unconditional love I could see as a kid. I've known it my whole life. Interactions, kissing, hugging – it definitely wasn't the fake love"–BJ the Chicago Kid
"Most people want to see you do better, but not doing better than them." – London Mond
"Fake friends are like shadows. They follow you in the sun but leave you in the dark."–Unknown
"It's hard to tell who has your back, from who has it long enough just to stab you in it…." ― Nicole Richie
"If you are faking love, you are missing something very beautiful"–Unknown
"What greater wound is there than a false friend?" – Sophocles
"We never lose friends. We simply learn who the real ones are." – Unknown
"A friend is with you in the sunshine and the darkness; a fake friend is one who is only there for the sunshine." — Catherine Pulsifer
Time passes and you begin to see people for who they really are and not who they pretend to be." – Scarlet Koop
"Better an honest enemy than a false friend." – German Proverb
"Always sleep with one eye open. Never take anything for granted. Your best friends might just be your enemies." – Sara Shepard
"You got nothing to lose. You don't lose when you lose fake friends." – Joan Jett
"A friendship that can cease has never been real." – St. Jerome
"Real friends are really hard to come by." ― Anthony Liccione
"We never lose friends, fake ones are exposed." ― Carlos Wallace
"Lots of people want to ride with you in the limo, but what you want is someone who will take the bus with you when the limo breaks down."–Oprah Winfrey
"Fake friends are with you today and against you, tomorrow, whatever they say defines them not you" ― Shizra
"Be very careful of who you share your problem with, remember that not every friend that smiles at you is your best friend." – Kemmy Nola
"You never lose Friends. Real ones will always stay – no matter what and the fakes, you don't need anyways." ― Drishti Bablani
"Make sure the lions you roll with aren't snakes in disguise." – Genereux Philip
"Sometimes the person you'd take a bullet for ends up being behind the gun." – Tupac
"Fake people are like soap bubbles, they pop out when the sun shines brightly." ― Chiranjude Bird
"I would so much rather have a few of good friends than a lot of fake friends." ― Lauren Conrad
"Sometimes I need what only you can provide: your absence." – Ashleigh Brilliant
"Fake Love is to money what fire is to hay, there only remains ash when it is over"– Bangambiki Habyarimana
"Sometimes the love is fake, but the hate is always real." – Anonymous
"Trust your gut. Your instincts will tell you it's fake." – Christina J. Daniels
"Love yourself so much that you spot a fake a mile away"―Christina J. Daniels
"The knives of betrayal and drama cut deep and hurt… but they also trim away the nonsense and reveal your true friends." ―Steve Maraboli
"Real love is a sky, not a prison" –Unknown
"The good thing about bad times is that it always reveals the fake people" –Unknown
"To all those fakenesses that I thought to be real, it was because my love was that real"–Unknown
"I can never figure out why have I kept ignoring all my intuitions about you"–Unknown
Fake relationships quotes/fake love quotes for relationships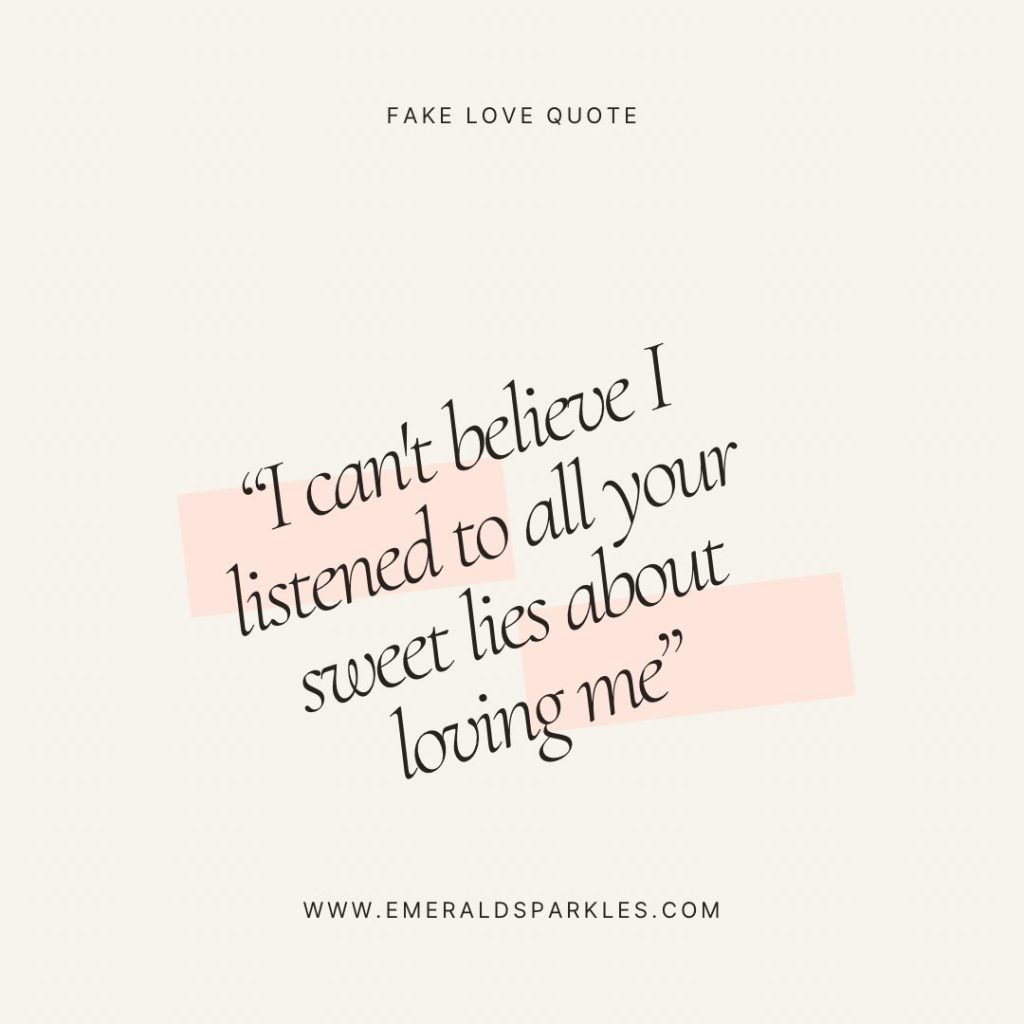 "You can't hurt someone you love.. and that's how I now know you truly never loved me." – Jarod Kintz
"She doesn't love me like she says she loves. Believe Me." – Drake
"Fake love doesn't last long only true love will last longer and you will understand it one day"–Unknown
"I can't believe I listened to all your sweet lies about loving me" – Unknown
"I would rather keep loving you because I am not faking"–Unknown
"If you don't identify the partner during the early stage of love, you are doomed for life." ―Unknown
"I love you and it is for real. I don't care about how others categorize my love for you." – Andrew Bolt
"No doubt I loved you. But I never felt how Cinderella felt when she found her Prince"–Unknown
"If they don't know how to appreciate your presence, Just leave"–Shubham Shukla
When the love is real you don't need to beg them to love you the way you love them" –Unknown
"Every day thousands of breakups occur. The reason behind them is simple. One of them is not a real lover of another." – Johann Livens
"If you look for monetary benefits in love, then you are just another fake lover." ―Unknown
"One thing that you can't fake is chemistry"– Blake Shelton
"Your betrayal is something that will stay with me. This means, in some or other form, you will be with me"–Unknown
"Don't tell me I've changed when in reality I just stopped living life your way"
"After hurting my feelings with fake promises, now where are you headed Miss Heartless?" ―Unknown
"I hate those who play with the feelings of others." – Dominic Carey
"Many of us are convinced that when we give love, we recover that love, but it is sometimes an illusion of what we have given them" – Akash B Chandran
"It's good I realized early that you were playing with my feelings. I regret falling into the trap of a fake relationship." ―Unknown
"Sometimes I wonder if the memories that we created together were all fake."–Shubham Shukla
"I fall for your fake love and now my heart is broken, I learned my lesson in life" – Unknown
"Relationships should be real and one must know how to identify his or her relationship." – Neil Gorsuch
"I know my love might be your infatuation. I choose to be mature"–Unknown.
"One day you will know who are the real ones and fake ones in your life"–Unknown
"You made me believe everything, and then you made me doubt everything"–Unknown
"Being single no matter how bad is still better than a fake relationship." – Terry Mark
"Real love can easily be seen, but fake love is hard to detect"–Unknown
"It is usually those whose love is fake that have a compulsion to prove their love." ― MokokomaMokhonoana
"Thanks for showing me how it really feels when you get to know the relationship is fake. I feel experienced in love now."–Unknown
"A fake lover stops loving and caring from the day he knows he'll never get her"–Unknown
"It wasn't all fake love. The truth is, they can only love others to the degree they love themselves"― Christina J. Daniels
"There's a difference between people who really care and who pretend to care"–Unknown
"My love was true, you didn't deserve it, so maybe that's the reason you showed your true colors. Thank you for introducing me to the world of fake love." ―Unknown
"It's sad how people play games and fake love just to make them feel better about themselves." ― Shubham Shukla
"No matter how long you know someone, they eventually show their true colors"–Unknown
"Fake smile is the weapon of fake people. They use it to break the heart of innocent people that enter their life." ―Unknown
Real love is seen in the actions, not in words. – Shubham Shukla
"One should have the ability to distinguish between real and Fake. Especially Real and Fake Love"–Unknown
"If you don't want to stay just say, don't comfort me with fake promises and sweet lies"–Shubham Shukla
"True love gives you happiness till last breath and fake love gives endless pain." ―Unknown
"I pretend to be stupid because I want you to love me. But you give me Fake love because you think I'm stupid"–Unknown
"You cannot force someone to love you. If it's true it'll come from within"–Unknown
"Believe in a true relationship and ensure you stay loyal. Don't break the heart of someone special for mere attractions that actually are fake!" ― Unknown
"I know I could probably fake love for a couple of days, but I couldn't fake it for more than three or four days, and neither could you. I don't think any of us can" Caroline Flack
"Your Love was fake, but the pain it caused Was very real"–Unknown
"If someone truly loves you they don't judge you"–Unknown
"At some point, you have to realize that some people can stay in your heart but not in your life." – Sandi Lynn
"Real love is rare but fake words and promises are everywhere"–Shubham Shukla
"The bad thing is when you know someone is using you to move on but the worst thing is when you let them keep using you"―Shubham Shukla
"Better not to have anyone than to have someone who is half there or who does not want to be with you"– James Porter
"If you never Loved me then why did you come into my life"–Unknown
Now I really understand what is the difference between real and fake Love"–Unknown
"Nobody has forced me to love, so why did you need to pretend? Your lies have left me heartbroken"– Shami Paulin
"I never thought you will leave me, but what can I expect from a fake lover" – Anonymous
"It may have been fake for you. But for me, it was very real. I loved you" ― Christina J. Daniels
"When the love is real you don't need to beg them to love you the way you love them"–Shubham Shukla
"Don't fall for pretty faces and fake smiles. Fall for kind souls and loyal hearts" –Shubham Shukla
"It'll never be over If it's real" Unknown
"Once upon a time, I was stupid enough to fall in love with you"–Unknown
"I prefer loneliness over fake love."–Unknown
"We all are born lovable, a few influences make us fake. Love remains pure!"–Unknown
"Love yourself more than anyone else Because fake love can easily make you weak Among everyone else…" Unknown
"Reality is real and fakeness is an act"–Unknown
"I can't believe someone can fake their love to just enter somebody's life." –Unknown
"True love is a myth. There is nothing like it at all. Fake love is real. So be real in this fake world Love is love after all"–Unknown
"Don't expect true love from fake people."–Shubham Shukla
"Your love is fake, just like your fake promises. I loved you every single day and you wasted every single moment."–Unknown
"You said to me that you will hold my hand in every situation but you are not there when I need you the most."–Unknown
"Dear ex, your fake love seems like a nightmare now. I feel so disgusted about love and relationships."–Unknown
"Every coin has two sides, just like most people have two faces"–Unknown
"Real love is blind. Fake love, you'll see right through it."–Unknown
"No wonder they said love is blind"–Unknown
"You entered my life like a surprise, showed me dreams, and now when I realize your love is fake, everything feels worse." –Unknown
"Love could never be Faked, it is either unclear to us or unfavorable situations" Unknown
"You never show fake love to your Mom because you are hungry" –Unknown
"Stop living in chaos just to make it work" –Shubham Shukla
"People are more what they hide than what they show"–Unknown
"A person playing a role will eventually forget their act. Pay attention" –Unknown
"Fake love? raise the red flag to warn others"
"Of all things, you decided to offer me a fake love? Good to know because now I realize why you smell of everything fake!"
Over to you
On the other side, fake love deceives you by offering false promises of happiness and love. Fake love is mean-spirited and deadly.
These relationship quotes written above can help you make sense of the people around you and the love they show. Every relationship and friendship is built on love, loyalty, and trust. However, some people abuse the loyalty of others and become unfaithful.
Realizing that you were cheated on and that your entire relationship or friendship was a lie sting. To avoid fake love, you need to take the time to think about people and figure out if their character is real or fake.