Getting tattoo designs on any body part is considered a trendy fashion. It's not only considered as a fashion but as a culture to some people that have so much meaning attached to it. Tattoo designs are of various types, and we'll be exploring one of the best-known spider tattoos.
Spider tattoos have so many beautiful types. So, in this article, we'll talk about the ten best spider tattoo designs that are trendy. Spider tattoo designs are fashionable tattoo designs that also have deep meanings attached to them. They're not just for fashion and the trend.
The design is always stylish and holds its own, whether it's a specific type of spider, like the black widow, or the eerie eight-legged appearance of the common spiders. Spider tattoos are ones you can select based on your choice and personality. A deeper dive into this guide will explain more about this.
Your 10 Best-To-Go Spider Tattoo Designs
Here are the top ten best spider tattoos for your body that are both trendy and cute.
1. Black Widow Spider Tattoo Design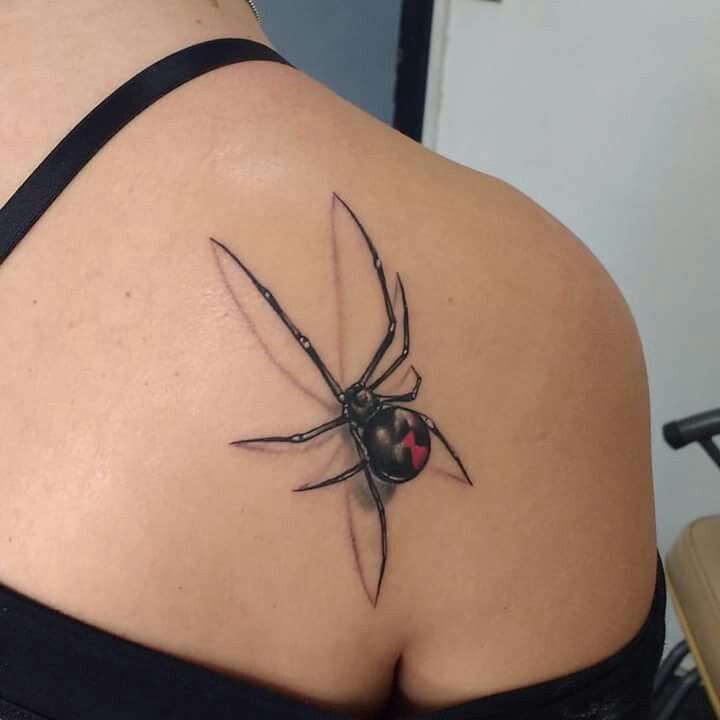 The black widow tattoo design is beautiful, but not everyone is attracted to getting this type of tattoo because it is considered to symbolize death and dark forces. A few categories of people do this design. It can be tattooed on the wrist or any designed body part.
Black widow tattoo design is synonymous with people who enjoy watching horror movies. Also, it's loved by people who embrace death, and it's a great tattoo idea you can go with.
2. Spiderweb Hand Tattoo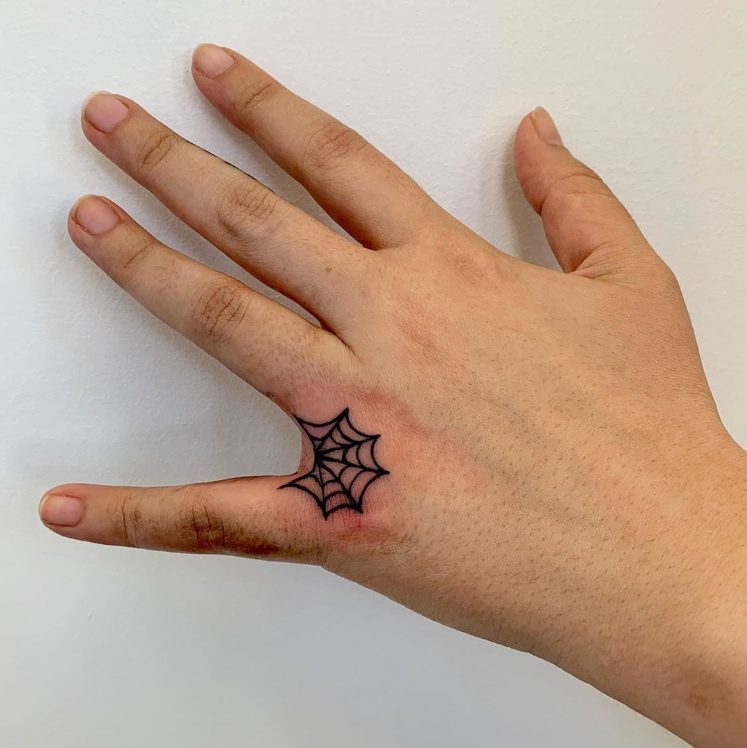 Spider Web hand tattoos are seen as a conventional tattoo design that represents negativity. Also, it means positive symbols. They are primarily drawn on the hands. However, they also fit so well in any part of the body. The spider web tattoo has received some of the harshest criticism worldwide in the past and today.
People visualize it more from the place of negativity like racism, incarceration, jail, murder, crime, and terrorism than good. The spider web tattoo, however, also has a lot of positive connotations like wealth, good luck, etc.
Related: 35 Small Tattoo Ideas With Meaning
3. Spider Skull Tattoo Design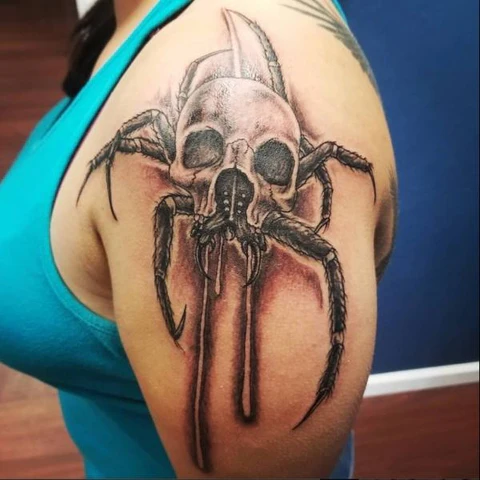 A spider skull tattoo is one of the best designs you can draw on any body part. It's an outstanding, adorable, and innovative design that, instead of drawing a tiny face, you can get an odd skull shape design that looks beautiful. This idea is unique and one of the best spider tattoo designs that symbolize your individuality. It also represents uniqueness.
4. Spiderman Spider Tattoo Design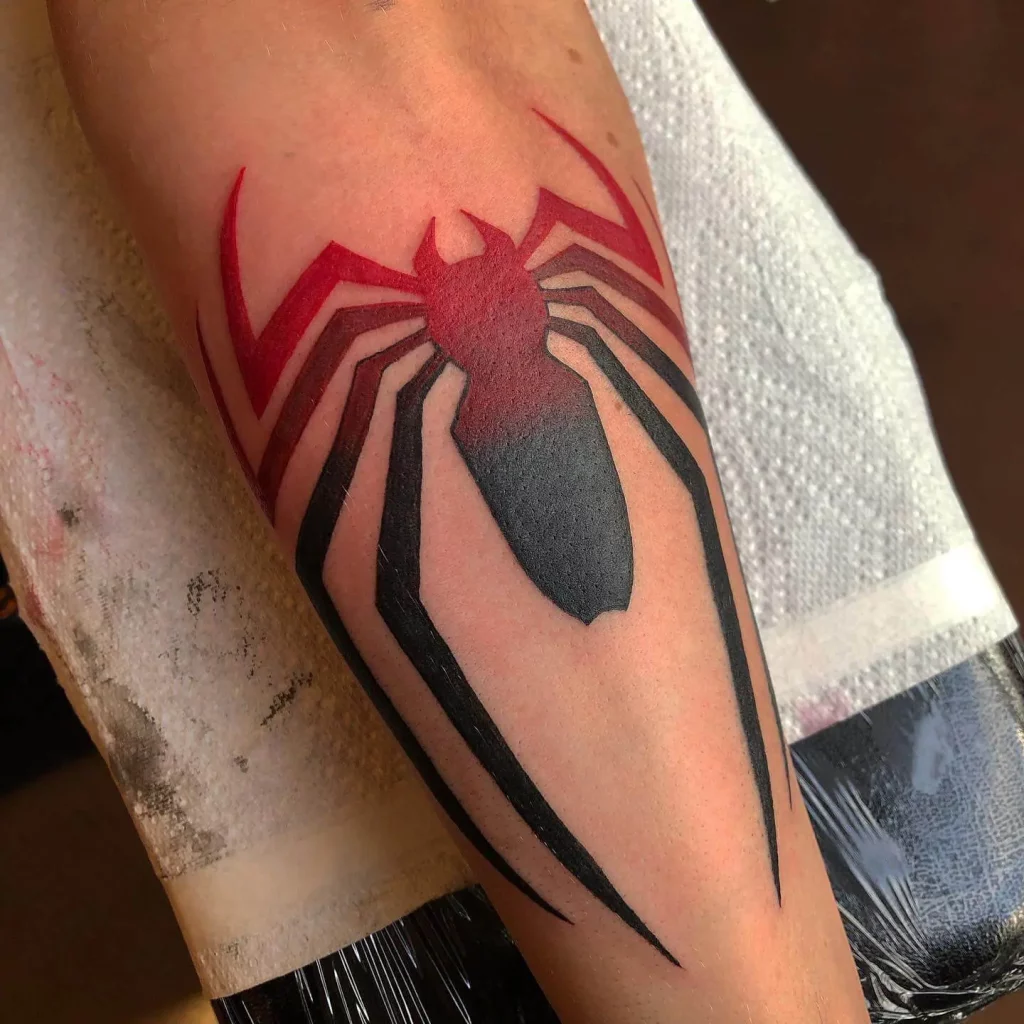 Spiderman is a spider tattoo designed by people who love comic books and movies. They are more like familiar characters. It is a design that resembles a young adult that is attacked by a spider and develops superpowers is the subject of the story.
To demonstrate their courage, tenacity, and ability to save others' lives, many young people choose to have spider man tattoos on their hands or chest. Additionally, having a spider-man tattoo makes you appear confident and intelligent, which makes a beautiful first impression.
5.  3D Spider Tattoo Design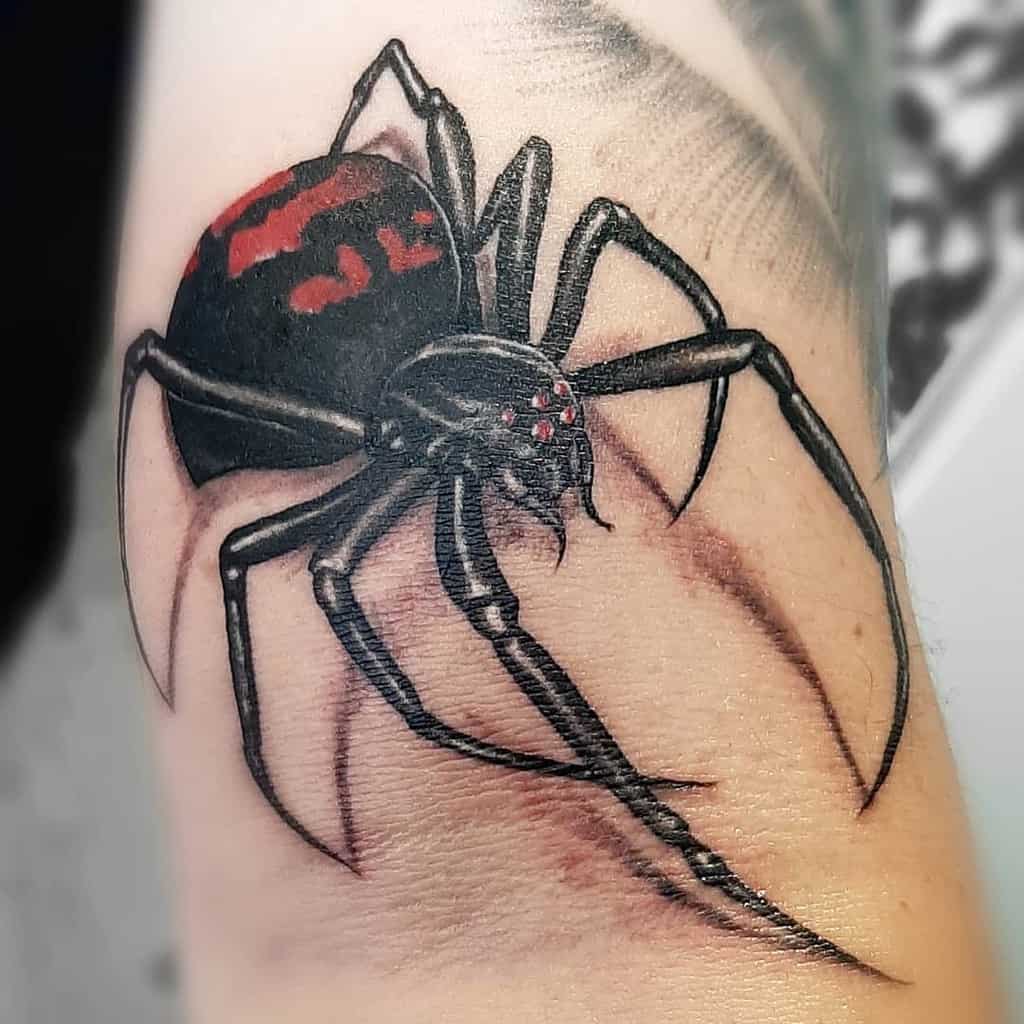 The 3d spider tattoo is a new and unique tattoo drawing that previously only had two main dimensions and currently has a three-dimensional appearance. The tattoo gains more height, depth, and width thanks to the three-dimensional elements, which also gives it a more realistic and solid build.
6. Realistic Spider Tattoo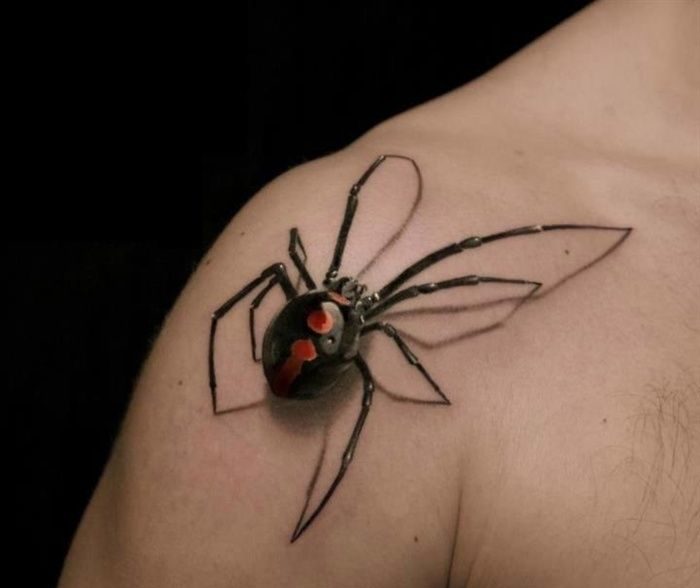 The realistic spider tattoo design is a simple image that can be inked on the forearm, back of the neck, etc. It has eight legs which are shaded, giving it a lifelike appearance. It can appear, from a distance, that a genuine spider is crawling up the person's back of beck, forearm, or any other body part.
The Realistic spider tattoo represents rebirth and rejuvenation. You can use this design as a model if you like it. Using black and silver ink, the artist skillfully accentuated the spider's spherical body. The artist can modify the tattoo's size can also be modified to suit your preferences. Most of these tattoos require only 2-4 hours to get done.
7. Tarantula Tattoo Design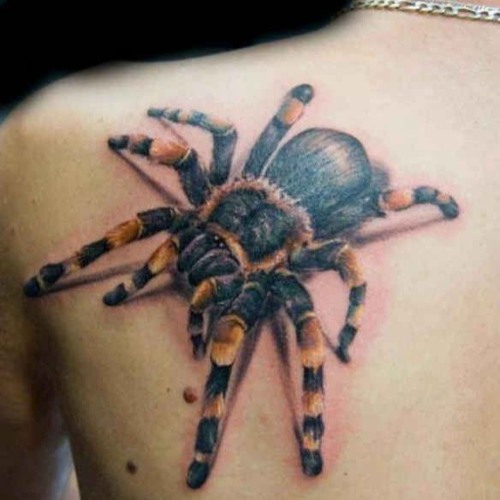 The Tarantula spider tattoo design is terrifying and also looks more pragmatic. It uses color and shading and appears congenial! It's the ideal method for making onlookers scream! Therefore, if you choose to get this kind of tattoo, make sure a talented and expert artist r creates it
to make it resemble a real tarantula spider to frighten people.
8. SpiderWeb Tattoo Design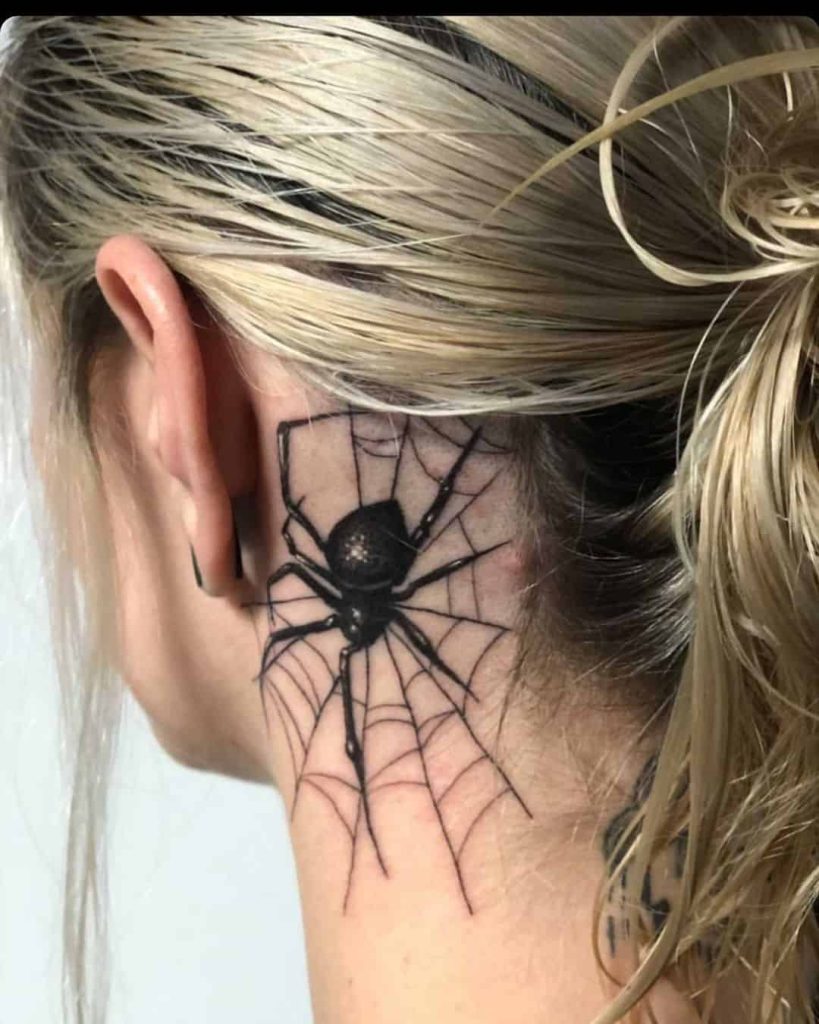 You can go for the spider web tattoo design idea if you don't fancy the spiderman tattoo mentioned above. It provides a unique and beautiful look. This can be done by an expert artist using a deep shade of black ink which will turn out looking stunning. You can get this design on any of your favorite body parts. A lot of people found this design creepy and a little bit scary
9. Tribal Spider Tattoo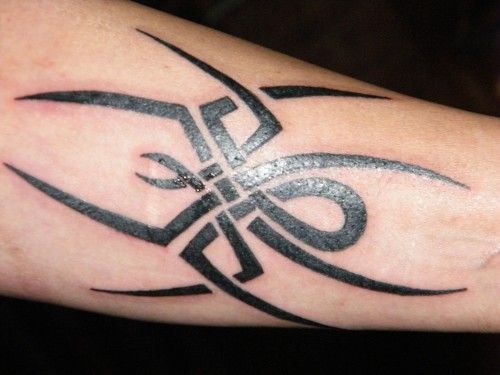 The tribal spider tattoo design looks quite beautiful and excellent. However, the spider shape is not ancestral. Although it possesses the same number of stalks and other parts of a spider's body. Here, The tattoo drawing takes away the fierceness and scary looks of the spider, thereby giving the tattoo a more calm, friendly, and decorative look. This design is not connected to negativity, and it's not scary
10. Spider Tattoo With Rose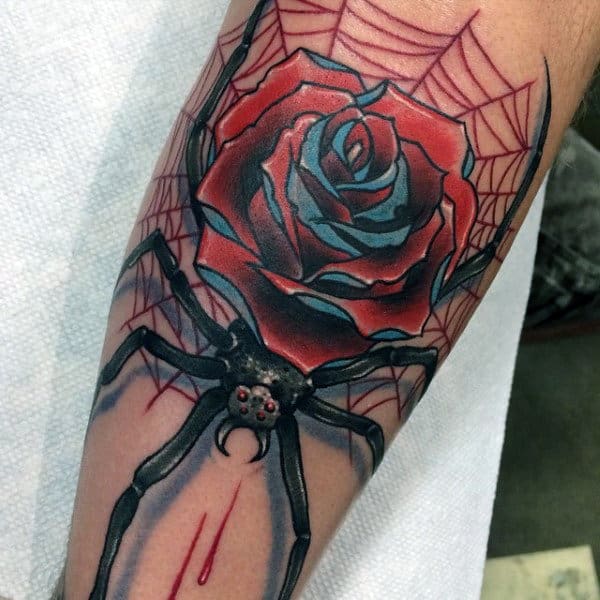 Spiders are known to be spooky creatures that are a crucial component of most Halloween decorations. The roses are one of the most popular and exquisite flowers that are an essential component of all romantic symbols. There is just no more excellent combo. Although it may seem counterintuitive, that is precisely why it looks fabulous and profound.
Often things that are opposite themselves work super great together. Here, the rose and the spider go together in this way. The design is enhanced by adding color and giving things a pleasing appearance. It's not scary or dangerous. The tattoo design looks impressive.
The Bottom Line
Spider tattoo designs are great tattoo designs you can choose from if you love tattoos. Some spider tattoo design ideas discussed above look dangerous, creepy, and scary, while some are beautiful, calm, and stunning. Most of these designs represent negativity. However, you can get it if you love the looks and all it means.