What is the best good morning message for her? Nothing, absolutely nothing, tells a girl you love her more than sending her lovely, heart-melting good morning messages. Even the coldest-hearted girl will allow her heart to melt when she receives a good morning message from her man.
A good morning message from you to her tells her that she was the last thought on your mind before you went to bed and that she is the first thought on your mind when you wake up. Which declaration of love is stronger than that?
Making a relationship keep the same love energy can be a lot of physical and emotional work, especially when you both have been together for a long time. You both will see people prettier than your partner, but the love you share regardless has to be a conscious decision, which unfortunately can't work with manpower. Little things like her waking up to a heart-touching good morning message from you can go a long way in bonding the relationship stronger than it is already and keeping off external bodies that may try to break it off.
Related: 33 Romantic Gestures For Her
Don't know where to begin when it comes to sending her a good morning message? The best way to start is from the heart. Let your heart, not your mind or mouth, do the talking. If you love her it won't be difficult to formulate the words. Although sometimes we're deeply in love and may not know what to say in a good morning text for her, a good morning message for her that touches the heart should be one that is capable of making her smile and fall in love more with you.
Short and long good morning messages for her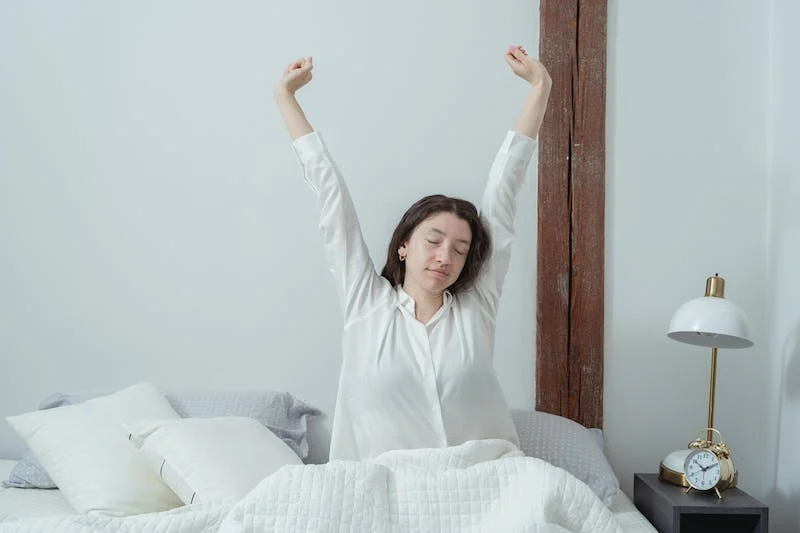 Do you still need help putting the words together? Here are 101 heart-touching good morning messages to her to help her start her day. Although they're not your own words, they can be used to express your true feelings. Simply copy and paste them on your favorite messaging app and send them to her in the morning. Also, feel free to tweak it by adding your own words.
1. The smile you give to me is more vital to me than the sunrise and rise and shine my love, it's a new day.
2. Waking up to you is still one of the best feelings in the world. I can't imagine my life without you in it.
3. As I lay awake at my best this morning. My heart aches from how much I love you.
4. The sun has shone upon us again today. Good morning love, win big today and always.
5. The night seemed so long as I tossed it on my bed remembering your beautiful smile. I can't wait to spend my whole day with you.
6. Every morning I wake up next to you is a blessing I don't take for granted. You looked so beautiful while you slept.
7. Every night spent away from you feels longer than the last. I can't do it anymore. Let's spend all our nights together henceforth.
8. You are the brightest sun in my life. I love you my angel
9. You look so beautiful when you wake up in the morning. I can't believe you are mine.
10. You are the last thing on my mind when I go to bed, and the first thing I think of when I wake up. I can't seem to get you off my mind.
11. Every morning is a new opportunity to love you more than the previous day. Good morning, my angel.
12. Your love is like a special spell that binds my soul to yours. I can't love you less.
13. Infinity feels like a very long time, but infinity with you will always seem short to me.
14. Thanks for coming into my life. You are the best.
15. I can't imagine starting my day without seeing your face.
16. Good morning, love. I hope you had a good sleep, just wanted to remind you that I love you.
17. You are the most beautiful woman I know. I still can't believe that you are mine.
18. I have the longest nights when you are not with me. Come home to me, my love.
19. I know you may probably still be asleep as I send this message, but I just want you to know I'm thinking about you, and I love you.
20. I dream about you all the time, even when I am awake.
21. I miss you terribly and need to see you badly. I don't know why, but I woke up loving you more.
22. I feel so blessed that I have you in my life. Have a lovely day, my queen.
23. Good morning, baby. May your day be stress-free and fruitful.
24. Good morning, baby. I just wanted to remind you that you are amazing and unique. Don't let anyone ruin your day.
25. Rise and shine, beautiful, the world is your stepping stool.
26. A morning without you is a nightmare I never want to experience again.
27. Good morning, sunshine. You make my life easier and more meaningful. I love you, boo.
28. I know how lucky I am to have you in my life. Stay with me and never leave my hands.
29. You are the treasure that I seek. You remain close to me even in the bad times. I love you, my queen.
30. You are my sunshine. You make me so happy that it scares me to even think about losing you. Good morning, baby.
31. The sun is shining brightly, but it doesn't shine brighter than your beautiful smile this morning.
32. I hope you are having an amazing morning. I love you.
33. Sending you lots of hugs and kisses this morning. I wish I could do it physically.
34. You make loving you so easy. Good morning, babe.
35. Why do I feel so sad every time I am far away from you? Even this morning. I hope you had a good sleep, my love.
36. Your love is like medicine for my soul. Good morning, beautiful.
37. Sometimes I wonder how I used to live without you in my life. And I just can't remember. Have a lovely day, my darling.
38. Your love is sweeter than honey. With you in my life, my future looks brighter. I love you.
39. I miss you. Staying far from you hurts me, but I know it's necessary for our future. Rise and shine, babe, it's a new day.
40. I know you hate waking up before 9, but it's a big day for us sleepy heads. I wanted you to know that you mean the world to me.
41. I never get tired of telling you that I love you and that you look even more beautiful when you've just woken up, because it's the truth.
42. How does one person hold so much power over me? That was the one thing I asked myself when going to bed, and this morning I realized that I never wanted it any other way.
43. It's time to wake up, love. I can't wait to see you later in the day.
44. How I woke up missing you so much is still a mystery to me. Good morning, darling.
45. I hope you have a wonderful day. Because you deserve nothing short of that today.
46. They say love is blind, but I know you are my light, and I see brightly every time I am with you.
47. My love for you is like a tree in the forest that keeps growing stronger regardless of the weather.
48. You've invaded my heart and seized it. And I never want you to return it to me. Good morning love.
49. I love all of you; your perfect imperfections. I wanted to remind you that as you start a new day.
50. The only remedy for your love for me is more love. I woke up needing more of it.
51. Every morning spent without you is a gloomy one.
52. It's a new day my sweetheart. I hope it favors you.
53. May your smile that heals my heart every single time never vanish from your face.
54. I thought sliced bread was my greatest love till I found you. Come home to me this morning my love.
55. I can't wait to create more beautiful memories with you. Have a beautiful morning.
56. You are my prayers answered. I just want you to always remember this as you go about your day.
57. Knowing you love me is all I need to stay motivated every day.
58. You bring out the best in me and see in me what no one else sees. Have a lovely day.
59. Wake up and conquer your day my queen!
60. I thought true love was a fairytale till I met you and saw how true it is.
61. Sharing breakfast with you is the perfect way to start my day. I love you boo.
62. You are my absolute favorite person in the world. I hope you know this now and always.
63. Even if we fight every day I would rather fix it with you than start afresh with someone else.
64. Some mornings I think about how different my life would have been if I didn't have you in it. And I don't even want to imagine it.
65. Nothing compares to the feeling of waking up next to you every day.
66. I want you to start your day remembering I will always be here for you no matter what.
67. You are my dream come true. I'm grateful to have you in my life.
68. Every time I think my heart has reached its love limit for you, it expands more to accommodate my growing love for you every morning I see your face.
69. I love every little thing about you. You are worth it.
70. May your day be as bright as your lovely smile.
71. It's another beautiful morning and I would love to spend my whole day with you.
72. The sun is envious of how bright your beautiful smile lights up my world.
73. Even my morning is dark when I'm not with you. Rise and come to me, baby.
74. Nothing pleases me more than starting my day with you. I love you, sweetie.
75. Let's move in together. Waking up away from you every morning makes me sad.
76. The world is waiting to see your beautiful face. Get up, sweetheart.
77. The only thing that makes me feel better at the dawn of a new day is the thought of seeing you.
78. Nothing wakes me up in the morning but your lovely voice.
79. Hope I make you happy just as you make me. Good morning honey.
80.Leaving your side every morning makes me sad. I wish I could be with you every time of the day.
81. Rise and shine sweetie! It's time to get off your bed, take a cup of coffee, and hit the road.
82. Good morning love. It's time to wake up and get moving. There are better days ahead of us.
83. The sun is a constant reminder that you have something to live for. Good morning my angel.
84. It's a new day to pick up from where you left the day last day. Good morning my baby.
85. Everything changes rapidly every day. But one thing I'm sure that won't change is our love for each other.
86. Your smile warms my heart. I can't wait to come home to you tonight.
87. The sun shines as bright as your smile this lovely morning. Good morning baby.
88. My love for you can't be quantified. You mean everything to me.
89. You are the only thought that runs through my mind all day.
90. Thank you for making my life look great with you in it. I love you to the moon and back.
91. Last night was amazing. I can't wait to go to bed with you beside me tonight again.
92. Wake up sunshine! It's another new day to take over the world.
93. I look at you and I realize how far we've come. I love you my boo
94. Good morning my baby boo. Hope you are ready to take over the world today.
95. Good morning to the woman I love most in the world.
96. I am very lucky to wake up next to you and be the first to see your lovely smile each day.
97. I don't think you know how priceless you are to me.
98. I can sleep peacefully every night because I know you are just next to me.
99. It's only that could make my raging heart so peaceful.
100. I know I make you sad most time. But I want you to know I love you, and I'm not ready to ever give up on us. I love you, baby.
101. Getting up next to you every day is a good day, getting up to see your smile every morning makes my day fulfilled already.
Summary
Love is a beautiful thing, but it's a lot of work by two parties determined not to be apart from each other. I hope this message can help you tomorrow morning as you write that heart-touching message to her.