Looking for the best wedding speeches for daughter and son-in-law? Then search no further.
There's nothing as loving as listening to a mother's speech at a daughter's wedding, it simply shows how lovely the bride's family is and a wonderful wedding speech for daughter from a dad can add a lot of colors to the ceremony and make it a memorable one.
While making a speech to your daughter on her special day, you can start with an introduction like; My name is Barnabas, I'm the father or mother of the bride and it is so nice to see y'all here. You can strike a way to say a very big thanks to your guests, especially guests from a long distance. Thank you so much for being here to witness the union between our children. You may also add some funny elements to spice up your speech.
12 Best Speech Wedding Speeches For Daughter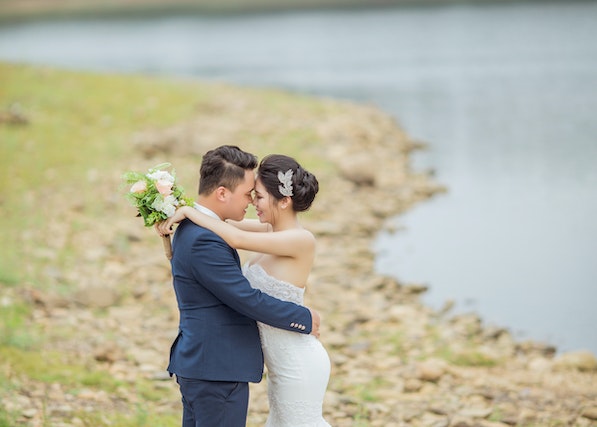 1. What should the father of the bride say about his daughter? – free sample
It is my great pleasure to stand before you on this great occasion of my daughter's wedding.
My Dear Alisa, you've been a blessing to me and your mother since you were born. I've been looking forward to this day would be an understatement, so now the big day is finally here. I just want to take a moment to savour this experience because chances are I'm never gonna have another opportunity like this again. I'm so lucky and blessed to have you as a daughter.
May God bless your new home my beautiful Alisa.
2. Wedding speech for my daughter who's getting married today
My beautiful daughter, you're so confident and smart. I take pride in you and I'm so happy that you've found a soulmate & life partner.
The first time I met my son-in-law here, his words of wisdom and comportment gave him a lot of credit. It shows indeed that you made a good decision, my daughter. I know that you will take good care of my daughter as your lovely wife and you both will grow in everlasting love. I welcome you both to your new home and may this union be fruitful and blessed.
3. Best wedding speech and wishes from the bride's parents
I want to welcome everybody to this day who came to celebrate the conjugal bliss between Jia and George. We say again thank you and welcome to the wedding ceremony.
My children, marriage is not a bed of roses, it is full of ups and downs. I want you both to be forgiving and live in peace and unity. Never allow third parties into your home. Be each other's best friend and keeper. Let the love of God continue to dwell in your home. I wish you a happy married Life.
4. Wedding speech prayers for daughter on wedding day
My beloved daughter, you're my best friend and everything. Today you're getting married to your handsome and lovely husband.
I know I've trained you well to be the best version of yourself and I trust you will make a good wife and mother in your new home. I thank God for this day and I also thank God Almighty for giving me the privilege to witness this great event.
I pray that the Lord will make his face shine upon you and be gracious unto you and the Lord will make his light of continents upon you and grant you peace.
5. Sample wedding speeches for daughter with a little story
It is an honor to stand up here today to witness the union between my daughter Michelle and Micheal. I can say to you vividly that it is a perfect match made by heaven. My daughter, you look absolutely beautiful today and with that smile that lights up every moment, no embarrassing story I promise 😁 but there's one story that stitches in my mind every day. 
When Michelle was little, I fell sick and was admitted to a hospital. She came to visit me and she prayed for me with her words of encouragement. She also promised me that she will make me proud and I will witness her walk down the aisle. Today I'm witnessing this great event as she walks down the aisle. 
Ladies and gentlemen, she fulfilled all her promises to me and she has always made me proud all her life.
I thank God for blessing you with a kind man like Micheal, your new home is blessed, my beautiful daughter.
6. Wedding speeches for my only daughter on her wedding day
Today is a very happy day for me and your father. We're very proud to welcome Tony to our family. Thanks to many others who helped in making this day a reality, and traveled from far and near to attend this wonderful ceremony.
If I am allowed to say everything the way they're in my heart, it would take us the whole day for me to deliver my wedding speeches for my one and only beloved daughter who I am giving out in marriage today.
She's the only daughter that I have got and we have been so close to each other that in the blink of an eye she already knows what's wrong with me and how to get around to solving it, what bothers me is a great concern to her and that's the same way she treats everyone around her with genuine love and care.
May your new home be blessed, I wish you and your husband the best of marriage.
7. Everlasting love and happiness wedding speeches for daughter
I suppose I'm not like other parents who upon gazing at their child for the first time, start drawing milestones and will look forward to sharing their first smile, the first word, the first step to school, boyfriends, and all that. When underlying all these special moments, the hopes and prayers that they simply grow up healthy and happy.
Many of us await a very special occasion like this which is falling in love with our children and the cycle starts over and over again.
Traditionally, at this point we as parents talk about giving our daughter's hand in marriage which is a symbolic indication that she's no longer single. Alisa and John committed to each other and have nourished and treasured those gifts which have been very precious to us to observe.
You both make each other happy and have decided to tie the knot today with unity and love. May God continue to strengthen the two of you with everlasting love and happiness.
8. Father and mother wedding speeches for daughter
The joy of every father and mother is to see their children's happy moments and celebrate with them.
My beautiful daughter, this is what I will say to you as the mother of the bride, the way to a happy home is trust, understanding, being fair to each other in good and bad times, sharing each other's burdens, and loving unconditionally. 
I will surely miss you and your presence around the House. John my son-in-law, our hearts are full of joy. I know that the two of you will make a great life together and we stand by, ready, willing, and able to celebrate your happiness together today and forever.  
9. Touching wedding speeches from dad to daughter on her wedding day
As the father of the bride, here's my speech to you my lovely daughter but firstly, I would like to say thanks all for joining us in the celebration of our daughter's wedding. An adage says "it takes a village to raise a child", here I think it takes a village to put a wedding together although we don't have the support of all community members, we've some extraordinary family members and friends who have helped countless ways to make this special for our children.
I'm so happy I was able to walk my beautiful daughter down the aisle this morning and to know she has chosen well. It is the most important decision you can make that will take you a long way in your life. I wanted to start off by saying Matt, you're most welcome in our family.
Loyalty is one of the solid foundations to build a home, be loyal and show respect to each other. May your bond be stronger, and your marriage fruitful.
10. Weddings speeches for daughter straight from the heart
My lovely daughter Juli, I've shared so many stories with you while I watch you grow up into a wonderful young woman. So many memories we shared together and most especially dancing in the family garden, it is in the yearbook which you can look up my darling.
Sweet candy those days were wonderful but would not trade this day for any of those I've shared. Those stories then were a backdrop in order to tell you this in a short while.
You will now have a partner and I'm going to let you go into marriage joyfully because John is a warm-hearted, considerate and lovely man. I wish you nothing less than endless laughter and a happy home.
11. Wedding speech for my daughter Ann
Ann, my daughter, watching you grow into a full-grown beautiful woman, gives so much joy to my soul. You made the right decision by choosing Augustine as a life partner. I see how devoted he is to his mom and family and I know he will bring that same devotion to you and your children.
Thank you my in-law for training such an amazing son-in-law, kudos to you guys.
To my daughter who is such a kind, compassionate and caring young woman. I know that you will bring those wonderful attributes of yours into your role as a wife and mother-to-be. I want to tell you that I'm so proud of you and the woman you've become. Congratulations on your new home my angel. May the peace of Christ continue to dwell in your home.
12. Wedding speech for my daughter and son-in-law
! am sure you will leave a loving gap in my heart for the rest of my days a deep breath. I know I've impacted some words of wisdom that will help you be more of yourself even in the most uncomfortable situations and work things out to become favorable to you and your partner, this would give guarantee a happy marriage. Marriage is simple and complicated, but endurance and giving each other a listening ear can go a very long way in building a happy home.
Through it all my lovely daughter, always remembers whether it be Chicago or Rockford, there's no place like home. 
My children (name of the celebrants), may your marriage journey be a happy one. May your marriage be the defining treasure of your life and may it be blessed with all the joy and happiness that the world has to offer. Have a home filled with sound health and prosperity.
Summary
As we all know, love is a beautiful thing and we always wish the best for our beloved ones. I hope our article on the best wedding speeches for daughters will be a good guide anytime you're short of speeches to make on the special day of your beloved daughter who's getting married to the love of her life.
I hope you had a happy reading, feel free to share your opinions with us through the comment box below.