When given the correct tools, we can create some pretty remarkable things with makeup. As with other kinds of art, makeup too can be uplifting, powerful, and artistic. 
Looking for the best beauty quotes, advice, recommendations, and makeup sayings from famous people, authors, poets, and artists around the world?
From makeup quotes for Instagram to makeup quotes for clients, and everything in between, our list of makeup quotes for makeup lovers will inspire you to leave behind good comments for your makeup artist. If you're also someone who derives joy in showing how beautiful you're without makeup, this post contains a good number of such quotes.
Below, we've collected some of our favorite makeup quotes for beautiful people if you're attempting to flaunt your new look on social media but lack the words or quotes to use.
104 makeup quotes for beautiful people.
May the following makeup quotes inspire you to know more about the art and how to show appreciation for whosoever contributes to making you appear confident.
Famous makeup quotes for you because you're beautiful 
"To me, being beautiful is just accepting myself. I feel beautiful when I'm wearing makeup; I feel beautiful when I'm not wearing makeup." ― Manny MUA.
"A smile is the best makeup any girl can wear." ― Marilyn Monroe.
Beauty, to me, is about being comfortable in your own skin. That, or a kick-ass red lipstick."  ―  Gwyneth Paltrow
"Sometimes you just have to put on lipgloss and pretend to be psyched." ― Mindy Kaling.
"That's one of the things I love about makeup ― you can change your whole attitude by just doing your eyeliner or lipstick differently." ― Beyoncé
"Makeup can help you capture a moment." ― Carine Roitfeld
I love natural beauty, and I think it's your best look, but I think makeup as an artist is so transformative." ― Marina Diamandis
"To me, beauty and makeup and color is like the finishing touch on everything." ― Marc Jacobs.
"I love being super-tough, but if I need to put on a dress and do my hair and makeup, I can do that too." ― Elizabeth Rodriguez.
I can't wear a little makeup. I have to wear a lot of makeup or no makeup." ― Betsey Johnson
"Love of beauty is taste. The creation of beauty is art." ― Ralph Waldo Emerson.
"Put on some lipstick and pull yourself together." ― Elizabeth Taylor.
"I'm very proud of my skin and face, and I have no problem not wearing makeup. I don't wear makeup because I feel like I need to cover myself up or because I don't feel confident. I wear makeup because it's fun; it's like painting on my face." ― Zendaya
"I believe in manicures, I believe in overdressing, I believe in primping at leisure and wearing lipstick." ― Audrey Hepburn
"I like wearing blush to highlight my incredible cheekbones" unknown
"Beauty is power, and makeup is something that really enhances that; it's a woman's secret." ― Charlotte Tilbury
"Beautiful makeup starts with beautiful skin." ― Shu Uemura.
"I love the confidence that makeup gives me." ― Tyra Banks
"I feel good in makeup, and it helps create a character." ― Josephine Langford
"Makeup is an art form for me. It's a form of expression, and it's such a cool way to get my creative juices flowing." ― James Charles.
"Kiss and makeup but too much makeup has ruined many a kiss." ― Mae West
"Creativity is your best makeup skill, don't be afraid to experiment." ― Pat McGrath
"The notion that wearing makeup is anti-feminist is silly. Cleopatra pretty much ― invented eyeliner and she ruled a kingdom!"  ―  Natasha Scripture
"If you're sad, add more lipstick and attack." ― Coco Chanel.
"Makeup can make a woman look more beautiful at every age." ― Francois Nars.
"Whether I'm wearing lots of makeup or no makeup, I'm always the same person inside." ― Lady Gaga.
"A girl should be two things ― classy and fabulous." ― Coco Chanel​.
"It's not your makeup but how you are made up." ― Tapan Ghosh.
"If you're going to be two-faced, at least make one of them pretty."  ―  Marilyn Monroe
"Elegance comes from being as beautiful inside as outside." ― Coco Chanel.
"I hate wearing makeup because I am just too lazy to take it off at night." ― Irina Shayk
"Makeup is a way for a woman to look and feel like herself, only prettier and more confident." ― Bobbi Brown.
"Sexy is being confident in your bare skin, independent and having fun" ― Unknown
"Makeup is not a mask that covers up your beauty; it's a weapon that helps you express who you are from the inside." ― Michelle Phan.
"Beneath the makeup and behind the smile, I am just a girl who wishes for the world." unknown
"Every woman deserves a man to ruin her lipstick, not her mascara." ― Charlotte Tilbury
"To me, beauty is natural beauty. If you're naturally yourself, you're beautiful." ― Young M.A
"Makeup should never hide yourself. It should be used to enhance your natural beauty." ― Kira Carl
"My dad used to say makeup was a shallow girl's sport, but it's not. It's armor." ― Courtney Summers
"Color is key to making your makeup pop and have your unique look stand out amongst the rest." ― Jeffree Star
"Girls have always wanted to be pretty, even in Egyptian times. Cleopatra wore all the eyeliner, you know." ― Rita Ora
"Less makeup is better, and it's always better to let your natural beauty shine. Essentially, be happy with your appearance." unknown
"We're just so lucky as women to be able to wear [makeup]. If you're having a bad day, you can change that." ― Gwen Stefani
"The biggest beauty myth is that everyone looks better without makeup. That's not true. Makeup is important." ― Aerin Lauder
"I love natural beauty, and I think it's your best look, but I think makeup as an artist is so transformative." ― Marina Diamandis
"Everything is possible with a little coffee and mascara" ― Unknown
May your foundation match your neck, your concealer never crease and your winged eyeliner be sharp enough to kill a man. Amen." unknown .
"And who's to say a little mascara doesn't make you feel more confident when you pop it on and look in the mirror?" ― Christina Aguilera
"I don't have makeup on all the time, but when I want, I have fun with my friends choosing clothes and putting nail polish on." ― Emma Watson
"If she likes makeup, let her wear it. If she likes fashion, let her dress up. But if she doesn't like either, let her be." ― Chimamanda Ngozi Adichie
"I don't wear makeup for others the same way I don't decorate my house for others. This is my home and everything I do is for me." ― Amanda Lovelace
"Wake up. Makeup. Repeat" ― Unknown
"Real beauty isn't about symmetry or weight or makeup: it's about looking life right in the face and seeing all its magnificence reflected in your own."  ―  Valerie Monroe
Related: 60 Most Beautiful Women In The World
Beautiful makeup quotes for beautiful people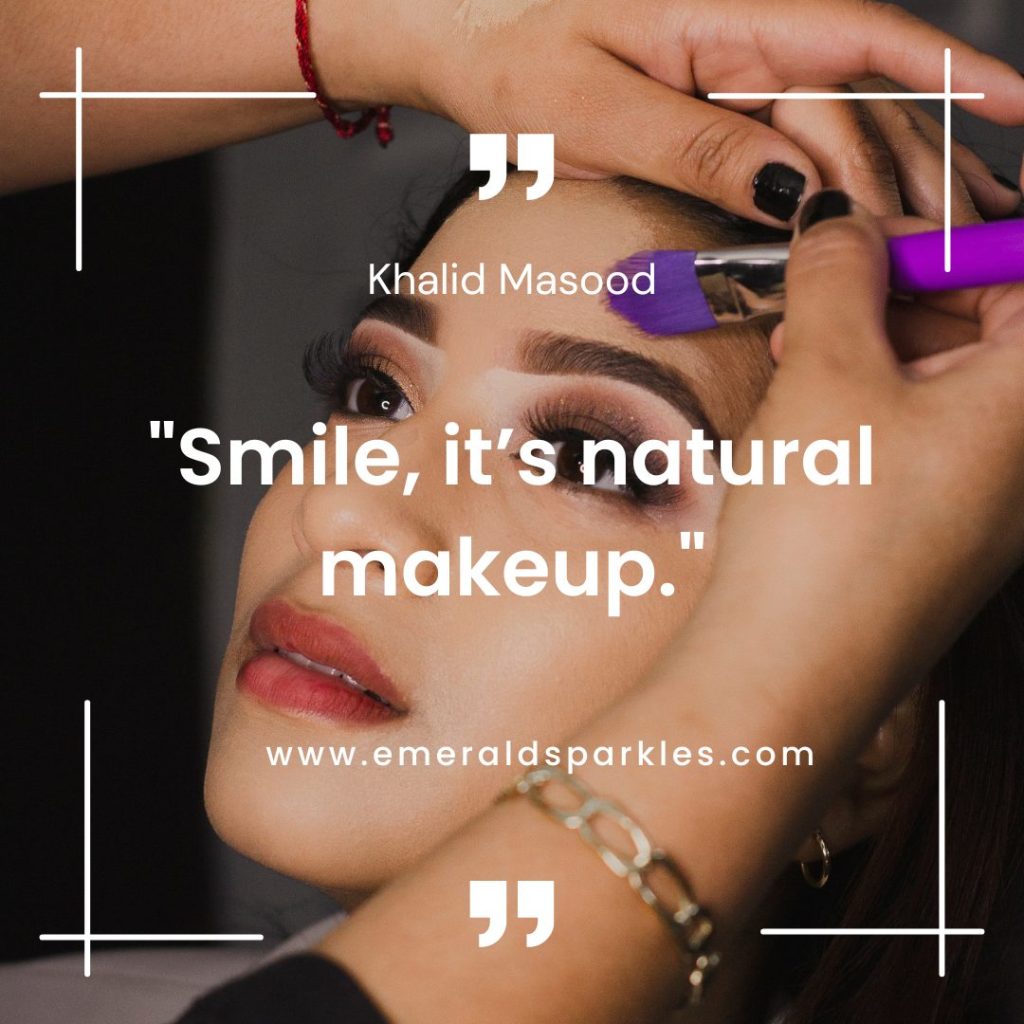 "You can be a woman who wants to look good and still stand up for the equality of women." ― Meghan Markle
"I love playing with makeup. Makeup has become a thing where it's an art form. It's not a thing where you use it because you need to feel beautiful or because you don't like the way you look." ― Zendaya
"Smile, it's natural makeup." ― Khalid Masood
"Makeup does a lot for your confidence. When I put makeup on, I walk taller. I smile more. I feel good. I know I look prettier. Even if I just put day makeup on." ― Maye Musk
"I do put on a little makeup every day because it helps me feel put together. Mascara is essential." ― Emma Stone
"Makeup can contribute to our success." ― Sahara Sanders
"When I put on makeup, I'm not doing it to pander to antiquated patriarchal ideals of feminine beauty. I'm doing it because it makes me feel good." ― Sophia Amoruso
"Makeup is no different than clothes and accessories ― it's embellishments for your face. And it also gives you creative freedom. You get to have that moment in front of the mirror every morning and give yourself self ― love. You're making yourself beautiful, which is essentially self ― love." ― Michelle Phan
"Just because you want to be glamorous, don't be a sheep about your eye makeup." ― Loretta Young
"Makeup is art. Beauty is spirit." ― unknown
"There are no rules when it comes to makeup!" ― Kevyn Aucoin
"Your eye makeup says so much about you and your style." ― Laura Mercier
"The best color in the whole wide world is the one that looks best on you." ― Coco Chanel​
"The common thing about life and eyeliner is that you've got to wing it, like a boss!" ― Unknown
"Good skin is the best foundation for your makeup." ― Holland Roden
"I fought a killer and didn't even smudge my makeup." ― Rose Pressey
"There's beauty in the things we think are imperfect. That sounds very cliche, but it's true." ― Laverne Cox
"A smile is the best makeup a girl can wear after she's got her makeup perfectly done" ― Unknown
"The makeup is simply an extension of the personality and colors, clothing, makeup all express something." ― Gene Simmon
"Joy is the best makeup. But a little lipstick is a close runner ― up." ― Anne Lamott
"Give them a reason to take a second look" ― Unknown
"Treat your makeup like jewelry for the face. Play with colors, shapes, structure—it can transform you." ― François Nars
"Makeup can make a woman look more beautiful at every age."― Francois Nars
"The right tools are just as important as the makeup itself."― Bobbi Brown
"I feel more confident if my makeup looks good." ― Ellie Goulding
"Consider the fact that maybe…just maybe…beauty and worth aren't found in a makeup bottle, or a salon ― fresh hairstyle, or a fabulous outfit. Maybe our sparkle comes from somewhere deeper inside, somewhere so pure and authentic and REAL, it doesn't need gloss or polish or glitter to shine." ― Mandy Hale
"I will not retire while I've still got my legs and my make ― up box." ― Bette Davis
"Makeup is part of my daily routine. It's the time in my mornings when I can concentrate on me, and me alone. Giving yourself the kind of attention is so important ― and is something that is definitely glossed over by too many women." ― Kat Von D
"I came. I saw. I contoured." ― Unknown
"Boys will never understand the struggle of long hair and lip gloss on a windy day." ― Unknown
"Treat your makeup like jewelry for the face. Play with colors, shapes, structure—it can transform you." ― François Nars
"Any woman can look her best if she feels good in her skin. It's not a question of clothes or makeup. It's how she sparkles."― Sophia Loren
"The human eye uses the eyebrow as an anchor point for the rest of the face. This is why a woman can look truly stunning without any makeup but perfectly shaped, full eyebrows" ― Anastasia Soare
"Life is short. Your lashes shouldn't be." ― Unknown
On one hand I am this weird androgynous tomboy where I'm strangely low maintenance and have a five ― minute makeup regimen. On the other I'm obsessed with all things beauty, from skin care to makeup" ― Racheal Zoe
"To be honest I'm just winging it. My life. My eyeliner. Everything." ― Unknown
"On stage, you can get away with more, so I definitely use that to my advantage and go bolder with fashion, hair, and makeup. I love a smoky eye and long lashes." ― Kelsea Ballerini
"It's so easy to be insecure about your looks or if you're wearing the right clothes, or your hair and makeup. And I think it's just so important to stay true to who you are" ― Sadie Sink
"I don't understand how a woman can leave the house without fixing herself up a little ― if only out of politeness. And then, you never know, maybe that's the day she has a date with destiny. And it's best to be as pretty as possible for destiny." ― Coco Chanel
. "A little makeup, a touch of rouge, a dash of henna ― and you are an angel." ― Richard Le Gallienne
"If the magic's in the makeup, then who am I?" ― Gwen Stefani
"I hope to inspire others to be confident in their own skin and to love themselves with makeup or without" ― James Charles
"My mother's idea of natural childbirth was giving birth without makeup. She was hyper ― positive ― the world is a wonderful place, rainbows and unicorns. If you said anything contrary to her, you were basically exiled" ― Robin Williams
I don't believe myself when I say l'll be ready in five minutes" ― Unknown
"If you don't want to put on any makeup, try some fake eyelashes. They make your eyes pop and give you a little confidence boost" ― Jessie James Decker
"Skin care is so much more important than makeup. Makeup is for when you're having fun and going out. But your skin is forever" ― Halima Aden
"There were a lot of times people would do my makeup, and it would be awful, and I would be orange. Nothing matched. So then you learn how to do your own makeup. I watched a lot of YouTube videos when I was little and taught myself" ― Zendaya
"Friends never leave friends to step out of the house with smudged mascara" unknown
From my childhood, my mom always told me to stay pretty clean and not put anything on my skin. That definitely helped me because I never wear too much makeup" ― Nina Agdal
"Beneath the makeup and the perfect smile, you can find a girl, who's ready to conquer the world" unknown
"Beatify never asks for attention" ― Unknown
Conclusion
Girl, get up and put makeup on! We hope these famous people's quotes are meaningful, incredibly beautiful, and utterly relatable. And would aid you to use badass captions for your next post on social media.