One of the key outfits you should have in your wardrobe as a classy woman is cocktail attire. Although cocktail attire was originally designed for opulent occasions, this is no longer the case because it is no longer limited to only fancy and big occasions.
If you wear cocktail attire for women appropriately, it can be used for any occasion. Also, you need to understand the dos and don'ts surrounding cocktail clothing.
So, In this article, we'll show you some of the amazing cocktail design ideas that will make you stand out at any party you grace. Now, let's dive into it right away!
What Does Cocktail Attire For Women Mean?
Cocktail dresses are appropriate for semi-formal events like weddings and evening parties. They are often midi-length or shorter, and some are often accessorized with bracelets, necklaces, brioche, etc.
Cocktail dresses are normally knee-length. However, long dresses—not floor-length ones—might be needed for more formal occasions.
The classic black minidress, blouses, skirts, pants, jumpsuits, etc., are appropriate for cocktail parties. Although your decision will be solely based on you and the specifics of the event, it is usually not advisable to choose too casual materials such as denim, jerseys, and so on.
Related: 10 Best Seductive Lingerie That Brings Out The Hotness In you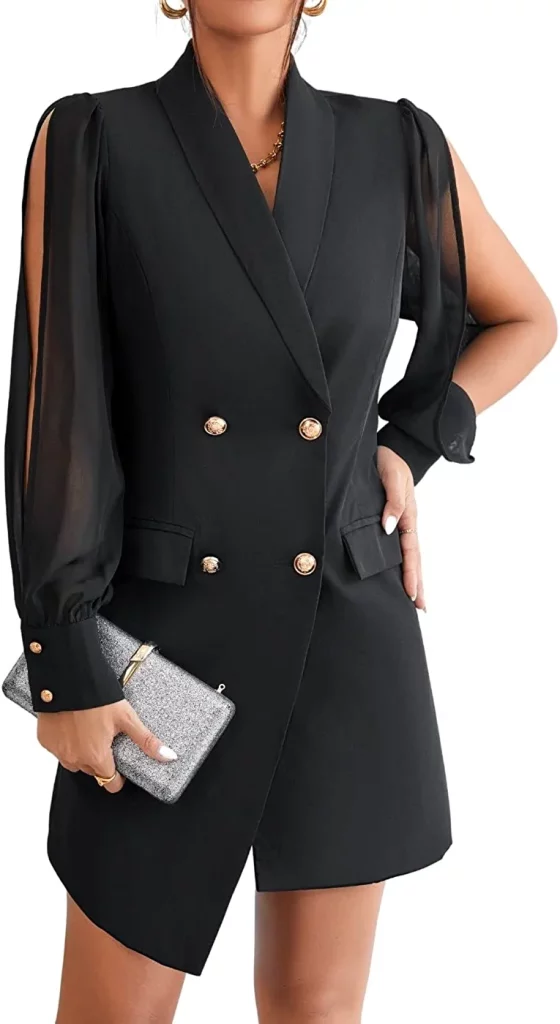 1. Double Breasted Blazer Black Dress
Price: $43.99
Do we need to mention how stunning this outfit is? Just have a peek at it! Recently, blazer dresses have become very popular in the fashion industry, and I don't think anyone disagrees with that. This black, double-breasted dress with delicate silver buttons is the appropriate balance of formal and informal in a professional cocktail outfit. Having pair of stylish shoes, bare legs, and hoop earrings will complete this sophisticated evening costume.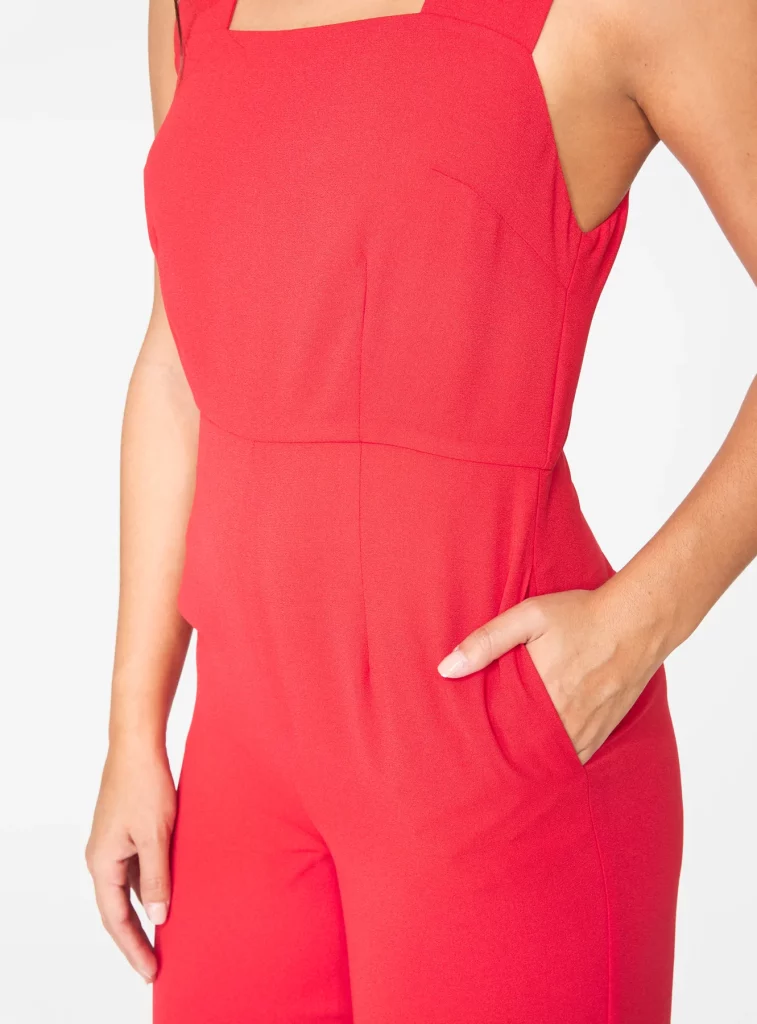 2. Straight Neck Jumpsuit
Price: $33.99
Dresses are not for every woman; most women out there are not fans of dresses, and that's perfectly acceptable. Jumpsuits, a chic and classy option for semi-formal events, can also be worn as stunning cocktail attire. Straight Neck Jumpsuit is available in red and other colors and is a great choice for office parties.
It can be worn with a blazer and classy jewelry to create an even more memorable appearance among your coworkers. It can also be the perfect attire for a night out if worn with high heels or a getaway with your loved ones.
Related: 10 Best Dresses To Hide Belly Fat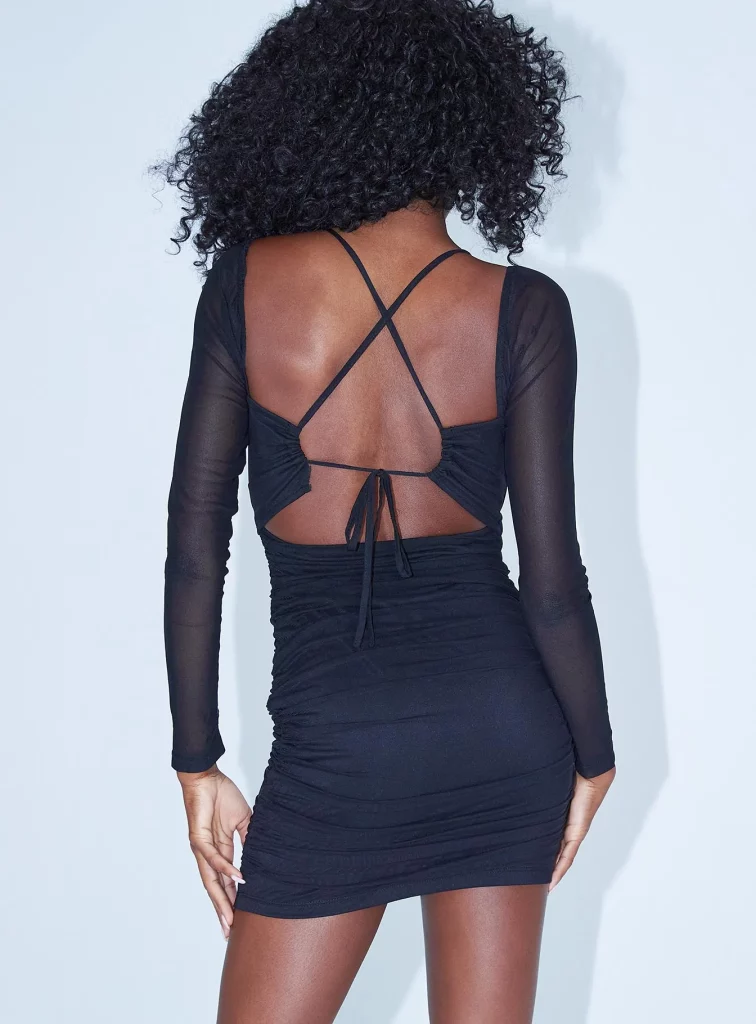 3. April Mini Black Dress
Price: $9.50
If you desire to add sexiness to your beautiful and elegant look, an open back is always a realistic choice. The April Mini Dress is a great illustration of this concept. It is available in black, white, light blue, etc., making it ideal for summer cocktail events held outside. It complements many other hairstyles wonderfully well. However, if you want to draw attention to the open back, choose a bun or a low or high ponytail.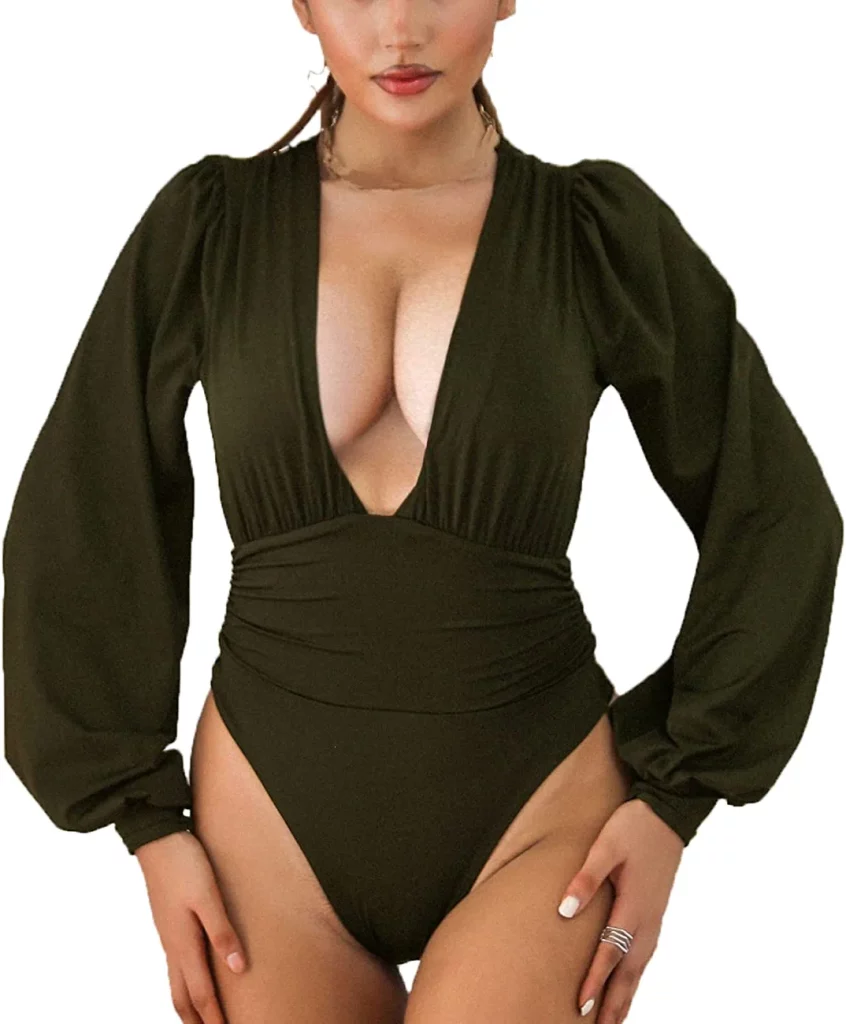 4. Deep V-neck and Long Puff Sleeves
Price: $19.90
So glitzy, refined, and classy all at once. This faux-wrap front & deep v-neck, which is quite flattering for your collarbones & shoulder, are two features that made us fall in love with this blouse and recommend it to you as a cocktail attire you should check out. This elegant cocktail blouse's long puff sleeves add to its attractiveness, and the shiny black color looks good on all skin tones.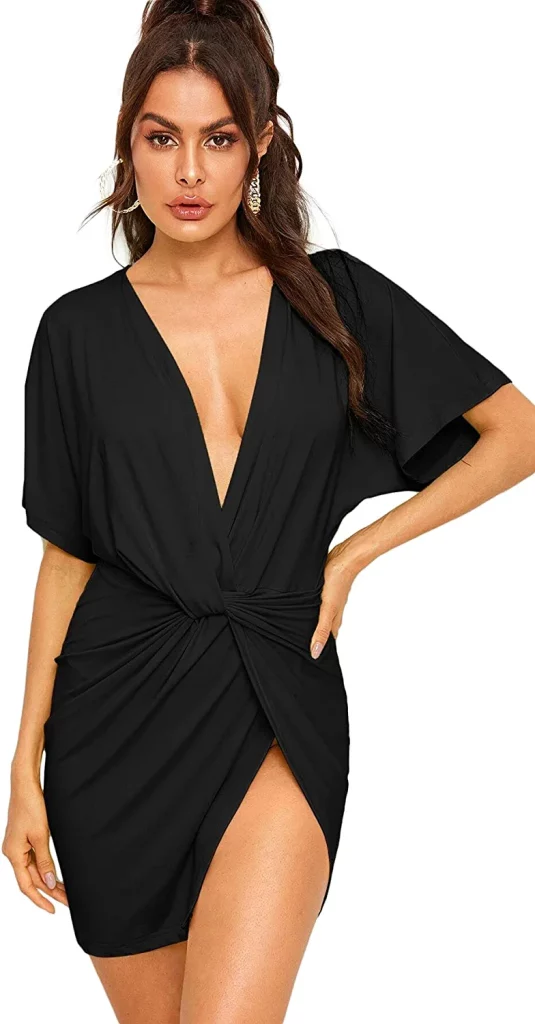 5. Plunge Neck and Side Slit
Price: $36.99
Plunge neck and side slit is the dress to try out if you're sick of searching for sexy cocktail dresses. This is the ideal example of a modest yet stunning dress with an all-around flattering asymmetrical shape. This satin dress is the perfect shade of light green, and the side split gives it that extra beauty. It's also available in several lovely colors.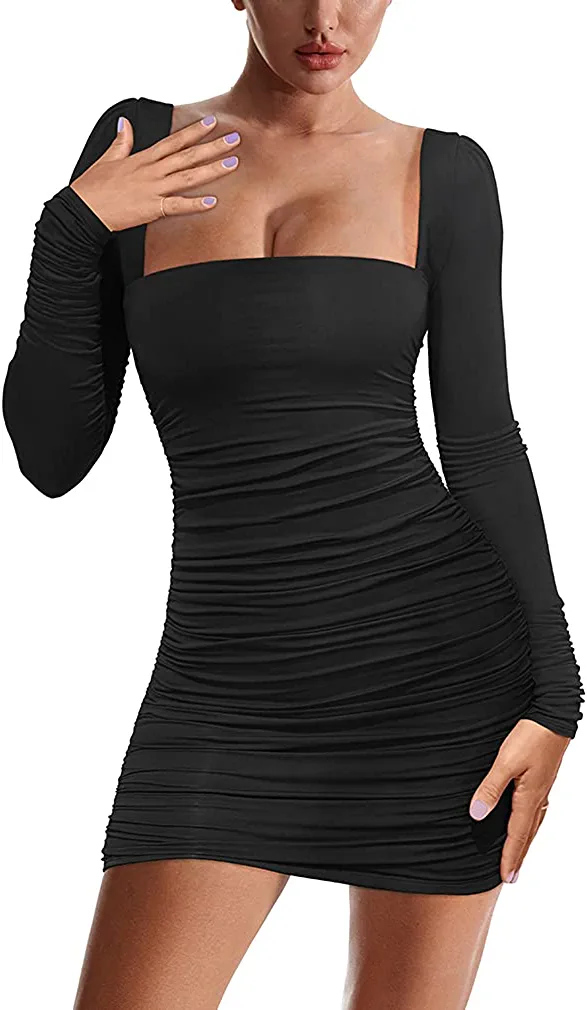 6. Square Neck and Cap Sleeve Midi Dress
Price: $27.99
We can't afford to overlook the classic square-neck midi dress while discussing classy cocktail dresses for events! This dress surprisingly makes it even more beautiful and elegant because it reaches beyond. It's just a little bit somewhere around the calves. We focus on the simple cuffed sleeves, and square scooped neckline in particular. The clean lines of this cocktail dress make it the ideal setting for smoky makeup.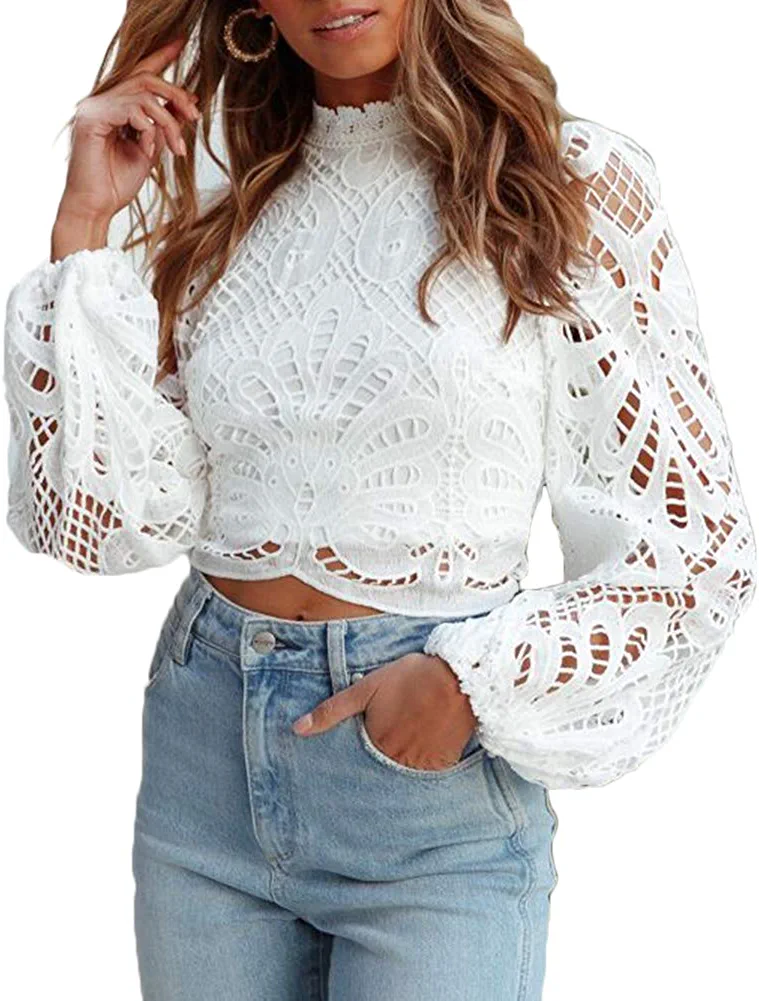 7. Floral Lace Mock Turtle Neck Long Sleeve Top
Price: $19.99
Totally lovely, feminine, and delicate blouse. This white color pant is made beautiful by the delicate flower decoration on the plain cocktail top. The floral lace mock turtle neck long-sleeve top is ideal for a summer gathering because of the mock turtle neck and cut-off sleeves. The intricate pattern and thin hemline greatly reduce the need for extra accessorizing.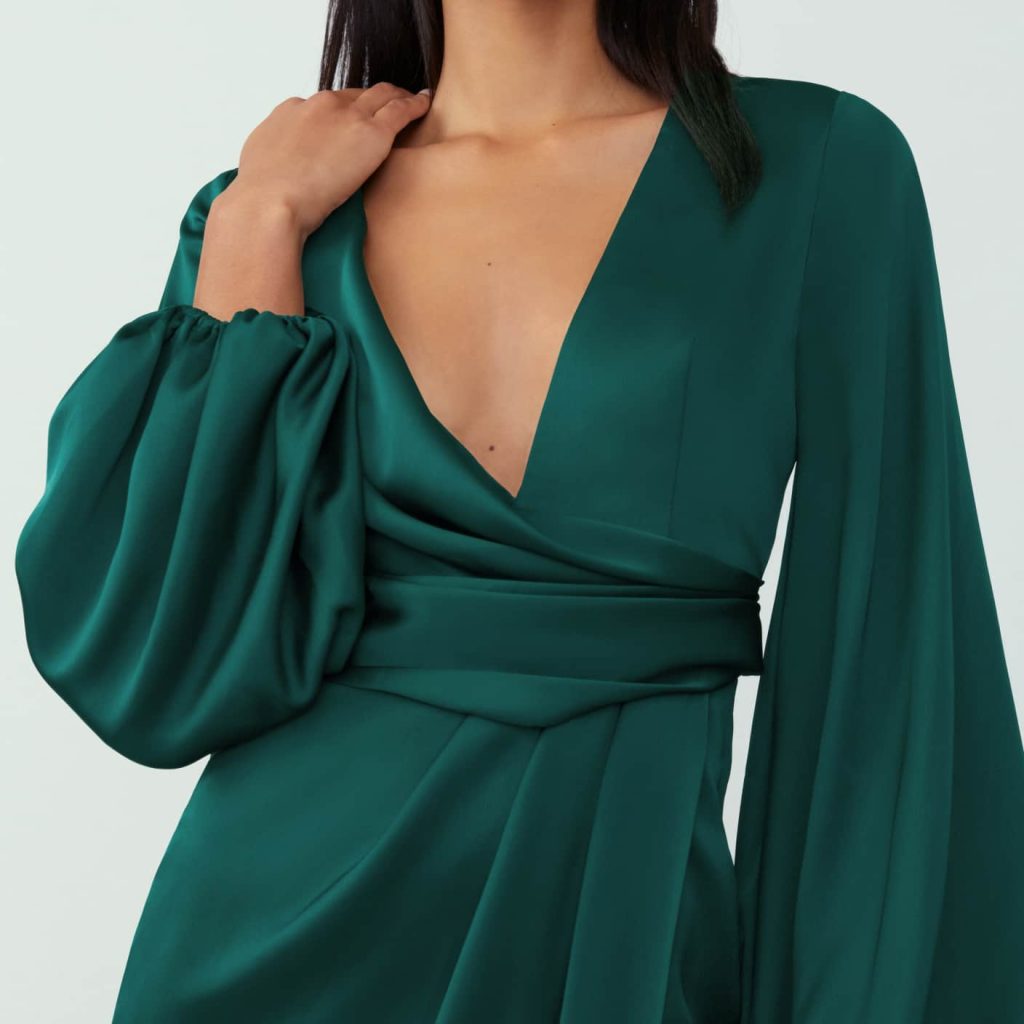 8. Fame & Partners The Shay Cocktail Dress
Price: $267.76
Fame & Partners The Shay cocktail dress is fantastic because you can customize everything about them, from the color to the length. Due to its rich jewel tone and refined style, the green fitting gown below the knee is one of our favorites for late fall or winter attire for parties. Fame & Partners The Shay is an excellent choice for women's cocktail attire ideas.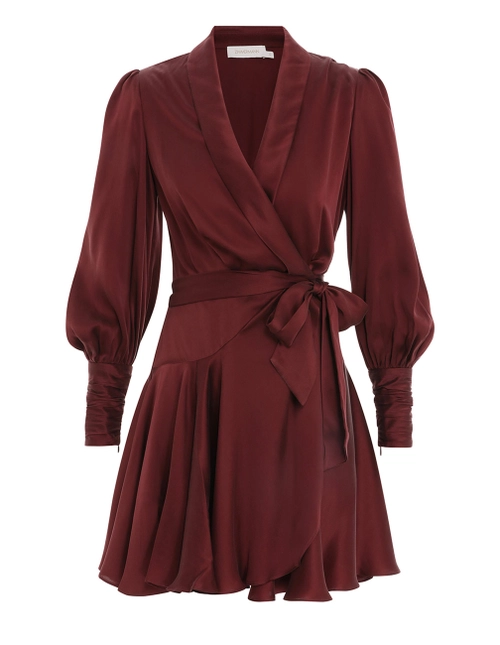 9. Zimmermann Silk Wrap Mini Dress
Price: $603
I can assure you that this milk-colored mini dress has a flouncy hemline if you enjoy attending cocktail events in the spring or the early fall. You will stand out on the dance floor because of your milk-colorado dress, which is almost made for changing seasons. The dress is ideal for a cocktail party because of its color and drapery features. Therefore, if you're looking for a cocktail dress concept, you should choose this Zimmermann Silk wrap mini dress.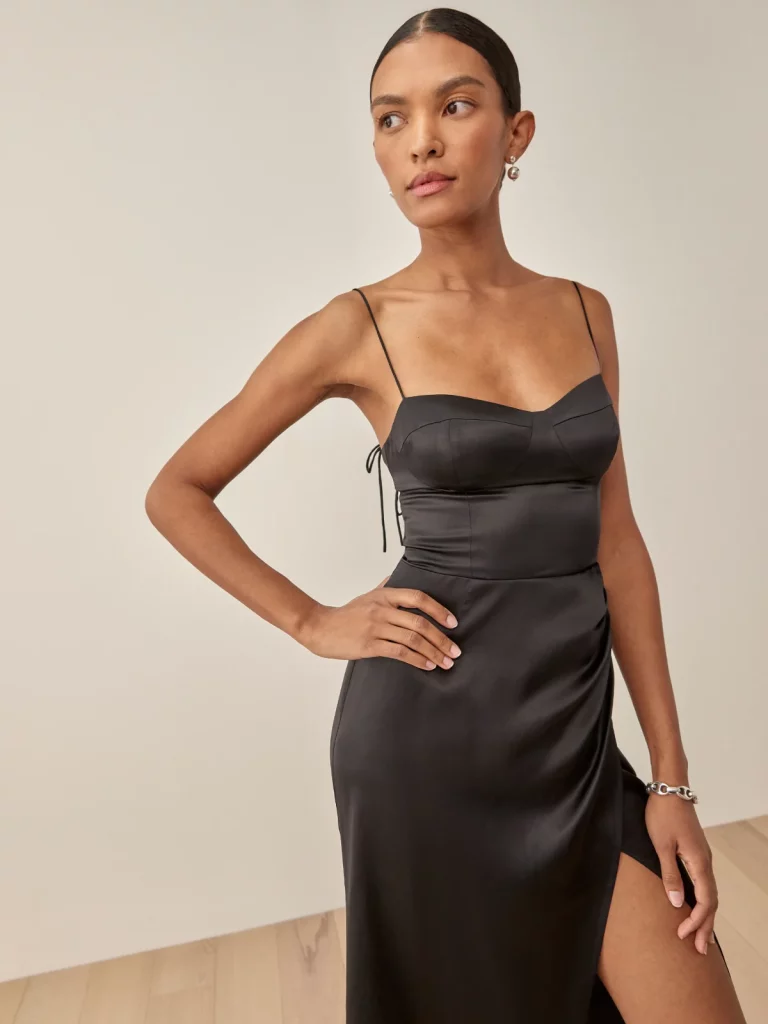 10. Reformation Marguerite Silk Cocktail Dress
Price: $190
Adorning a beautiful cocktail dress to a party leaves you looking classy, and this reformation Marguerite silk cocktail dress helps you achieve this purpose. This dress seems delicate yet daring for any wedding guest or celebration, thanks to the thin straps and leg-baring split. Additionally, its glossy black is suitable for weddings and events of all kinds in the spring, summer, and fall.
What are the important tips for choosing cocktail dresses?
Consider the occasion: First, think about the occasion for which you'll be wearing the dress. Is it a formal event, or a more casual gathering? The formality of the event will influence the style and length of the dress you choose.
Determine your budget: Cocktail dresses can vary greatly in price, so it's important to determine your budget before shopping. This will help narrow down your options and ensure that you don't overspend.
Choose a style that flatters your body type: Different styles of dresses can flatter different body types, so choose a style that enhances your natural shape. For example, if you have an hourglass figure, a fitted waist and an A-line skirt might be flattering. If you have a pear-shaped figure, a dress with a full skirt can balance out your proportions.
Consider the dress's fabric and color: The fabric of a cocktail dress can greatly affect its overall look and feel. Choose a fabric that flatters your skin tone and is appropriate for the occasion. Additionally, consider the color of the dress. Neutral colors like black, navy, and gray are always classic choices but don't be afraid to experiment with bold, bright colors as well.
Accessorize appropriately: The right accessories can make a big impact on the overall look of a cocktail dress. Choose accessories that complement the style and color of the dress, and keep them simple and elegant. A pair of classic pumps, a clutch bag, and a few pieces of statement jewelry can be all you need to complete the look.
Final Thought
Finally, cocktail wear features shorter hemlines, colorful touches, and party-ready designs. It's usually a good idea to take the wedding venue and season into account when choosing the ideal cocktail outfit for forthcoming nuptials. All of the cocktails mentioned above come highly recommended.