It is the dream of every woman to look beautiful inside and out. Lingerie is among the most commonly used attractive clothes by women every day.
Crochet, pants, bras, bodysuits, bikini underwear, bralettes, and other lingerie are available. All this lingerie has its benefits; some are important for improving outfits, boosting confidence, improving the shape of our body, and others.
There are also classes of lingerie that always bring out our hotness and how sexy we look. These lingeries are known as seductive lingeries. They make us feel special and impressed with our bodies, as well as make us look sexy and breathtaking to our partners. Below are some examples of such seductive lingerie.
Best Sexy Lingerie To Look Hot For Him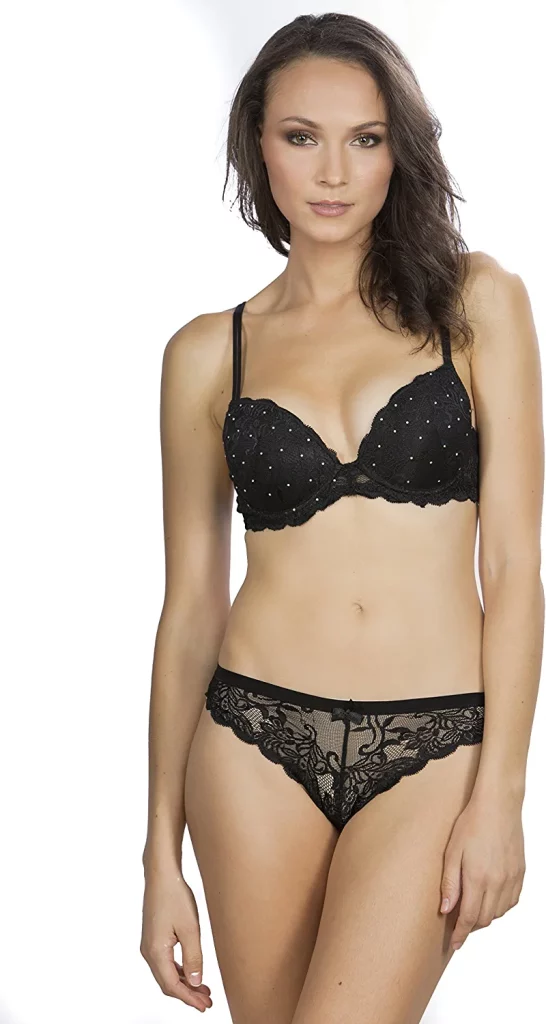 1. Bejeweled black lace pants and bra set.
Price: $16.99
This lingerie brings out the hotness and elegance in you. The crystal detailing and openings makes the lingerie look sexier, and it's a way of attracting the eyes to your favorite assets. The underwear is made from cotton, making it possible to prevent odors and provide a gentle touch to the skin.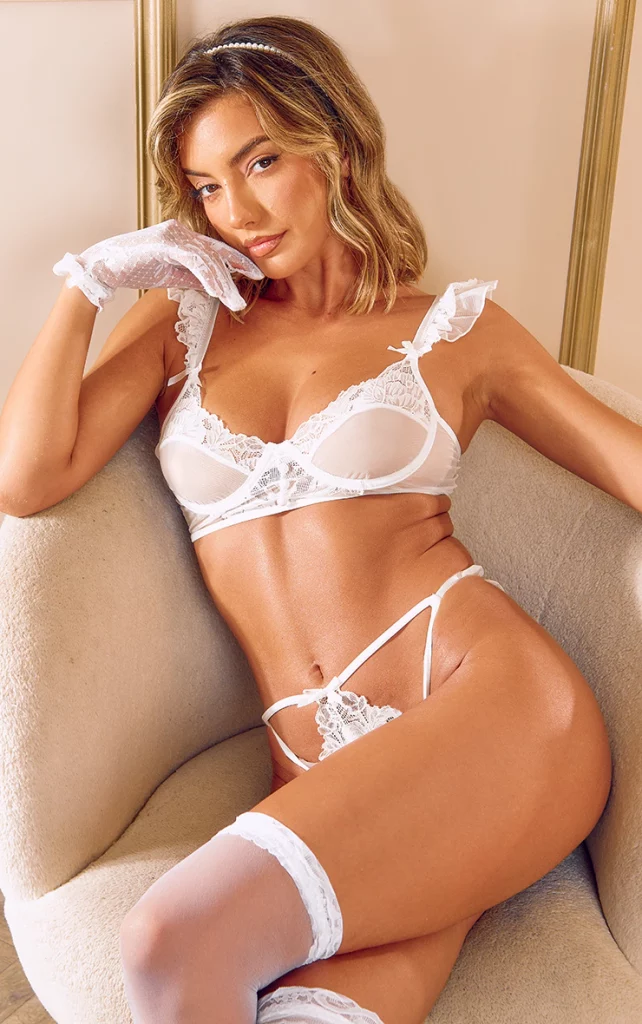 2. White Lace Panel Frill Detail Longline Lingerie Set.
Price:
This lingerie set contains a longline bra and thongs. It usually comes in different colors; white, pink, black, and milk. It also includes a detailed frill design and gloves to make you look hot and attractive. It comes in various lengths and widths according to individual sizes. Try this seductive lingerie to look elegant and breathtaking.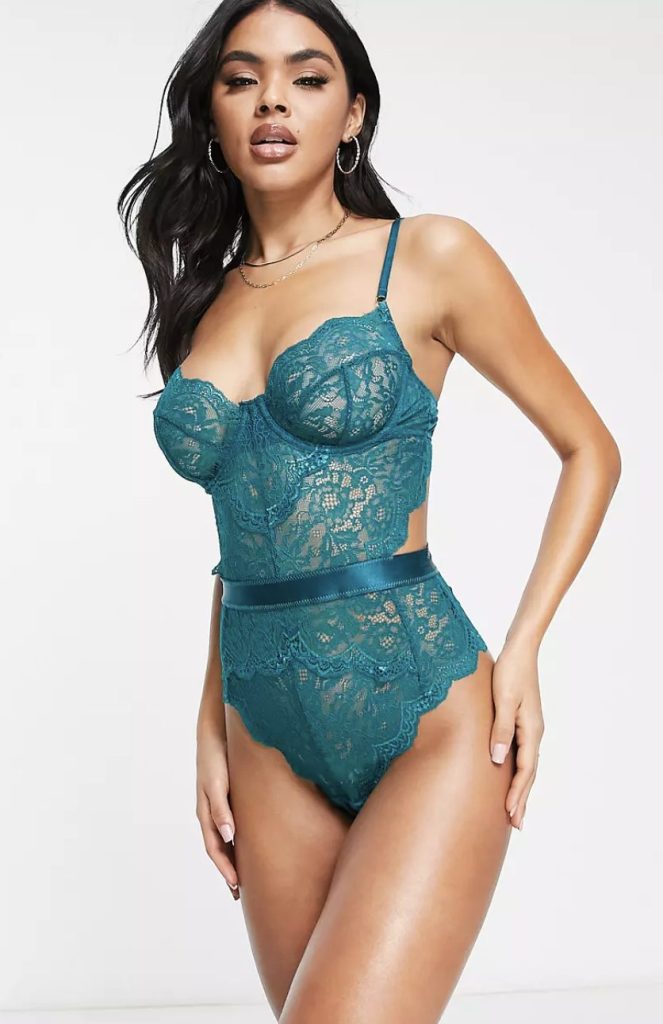 3. ASOS Ruby Red Valentine Bodysuit.
Price: $51
This lingerie is a pair of attractive pants and bra joined together by some strips to form a bodysuit. Its transparent nature is what makes it very enticing. It's also made from pure cotton to provide a gentle and comfortable touch to the skin. There are a variety of colors apart from red,  ranging from red, black, and white to orange.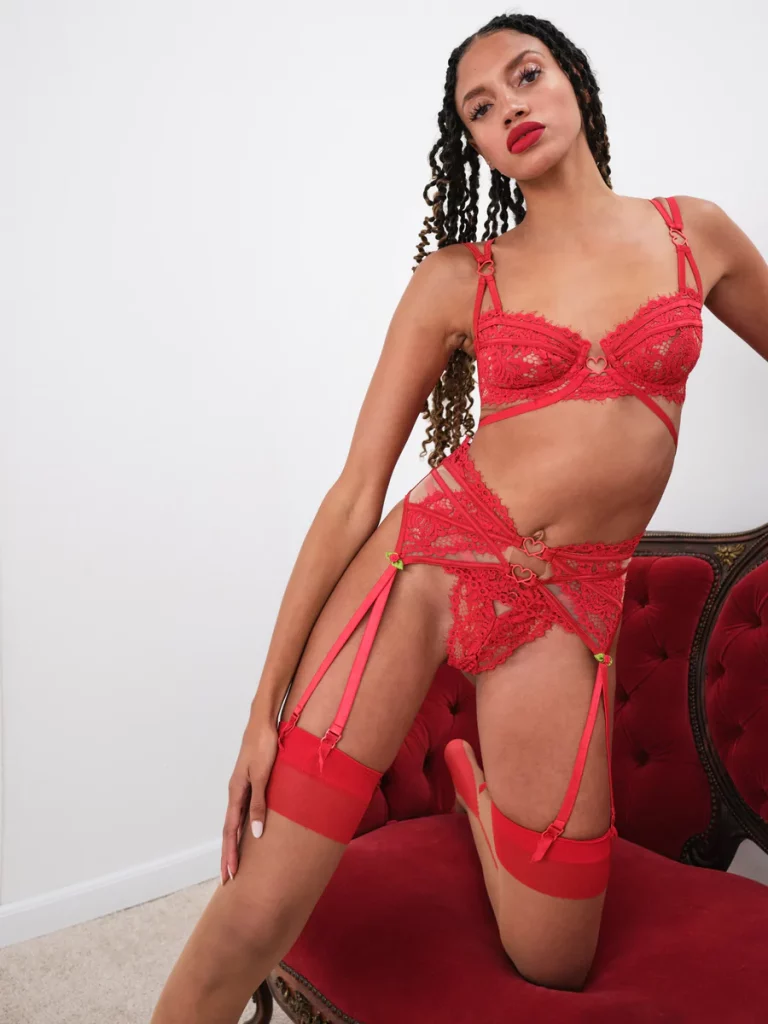 4. Skivvies For Love and Lemons Red Underwear Bralette.
Price: $110
This red Bralette is decorated with adorable lace on top of the normal bra cup. The entire Bralette comprises cotton laces except for the bra cup, which is satin with cotton lace on top. It can be used as underwear or outerwear, depending on your desire.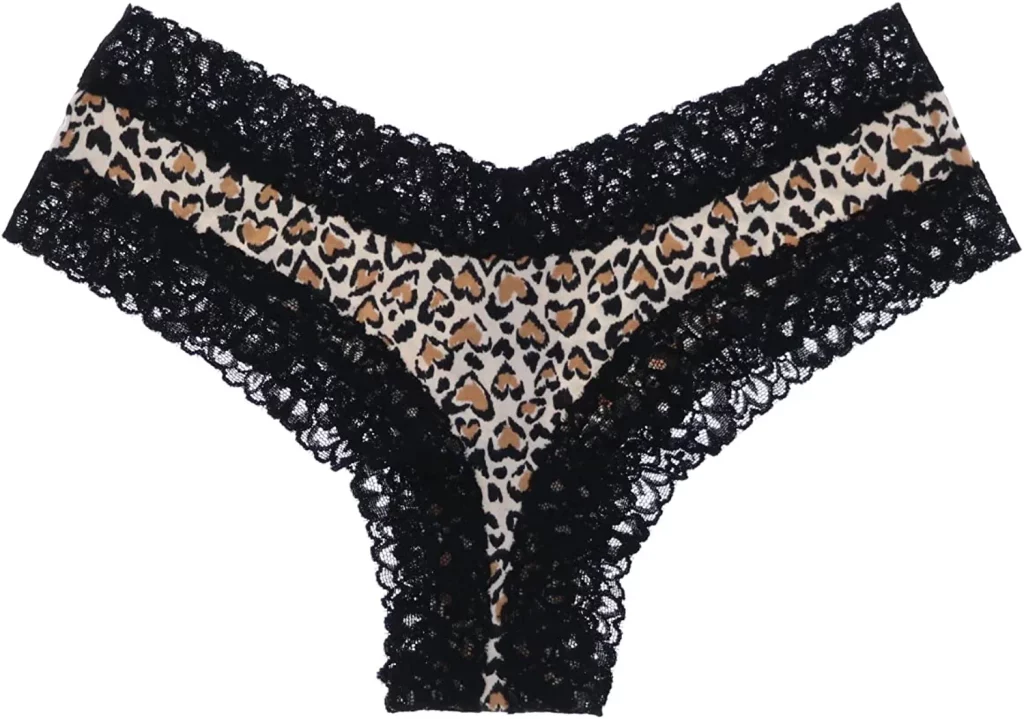 5. Victoria's Secret Lace pants.
Price: $14.32
The ability of a lady to be wary of her underwear just as she is of her clothes is what makes her gorgeous. This is an entire lace pant made from cotton. The pants can be very seductive due to their openings and sexy design. It comes in various sizes and colors, such as pink, red, blue, purple, black, white, and others. This is important in allowing you to choose your desired color and size.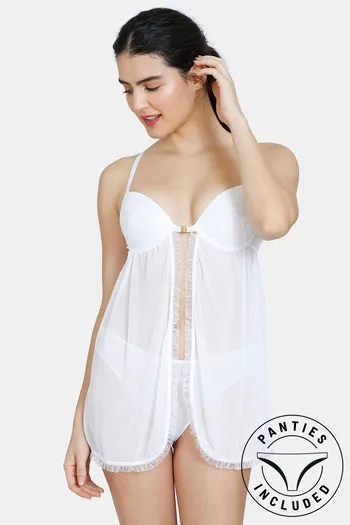 6. Zivame sleeveless babydoll.
Price: $10.85
This lingerie comes with sleeveless styling; it can be easily adjusted due to elastic strips and adjustable straps with sliders. It has a unique thong to be used for sexy styling. It can take the shape of your body and fit you perfectly due to the presence of elastane blended for stretch and shape retention.
The intricate lace design is essential in achieving a very seductive look. The thong, lace, and sheer tulle bring out more enchantress in you. It comes in various colors ranging from blue, black, red, and white. A relaxed fit is essential in giving you comfort.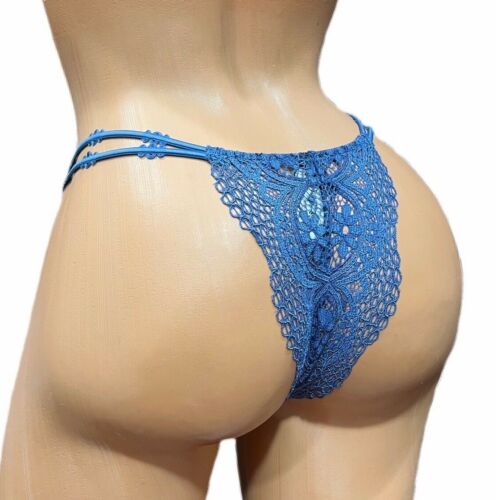 7. Victoria's Secret Seductive Crochet.
Price: $19.99
This seductive crochet comes in the form of naughty and good girl dresses; you can wear them at home or when having a good time with your lover. It comes as a body hugs with a plunging V-neck, giving you an irresistible feminine silhouette.
Eyes will roll, and heads will spin as you walk by in this highly seductive lingerie. It comes in various colors ranging from black, white, red, purple, brown, pink, and grey. Multiple colors allow you to choose your favorite or your lover's favorite color.
Related: 10 Unique Fun Date Night Ideas For You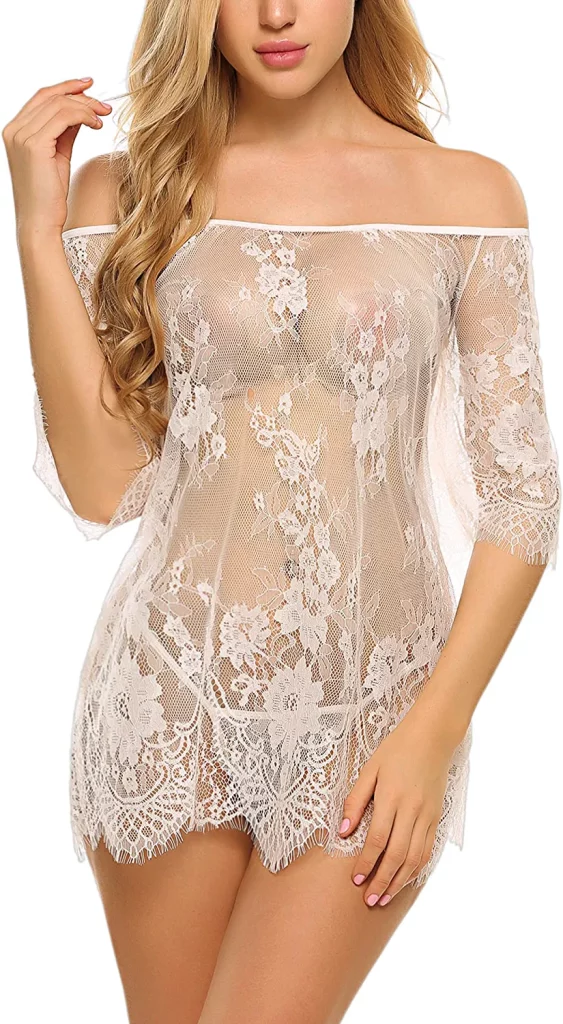 8. The see-through body hugs.
Price: $16.99
This is one of the most sexist lingerie. It can make anyone lose focus and control when you pass by. Wearing this lingerie gives the impression that you are fully covered while, in reality, you are fully undressed.
This is because it's a completely see-through or sheer mesh waiting for your shape to fill through. It also comes in various colors ranging from Orange, red, black, white, purple, and brown. When brown is worn on brown skin, wonders will happen, especially if you're not alone.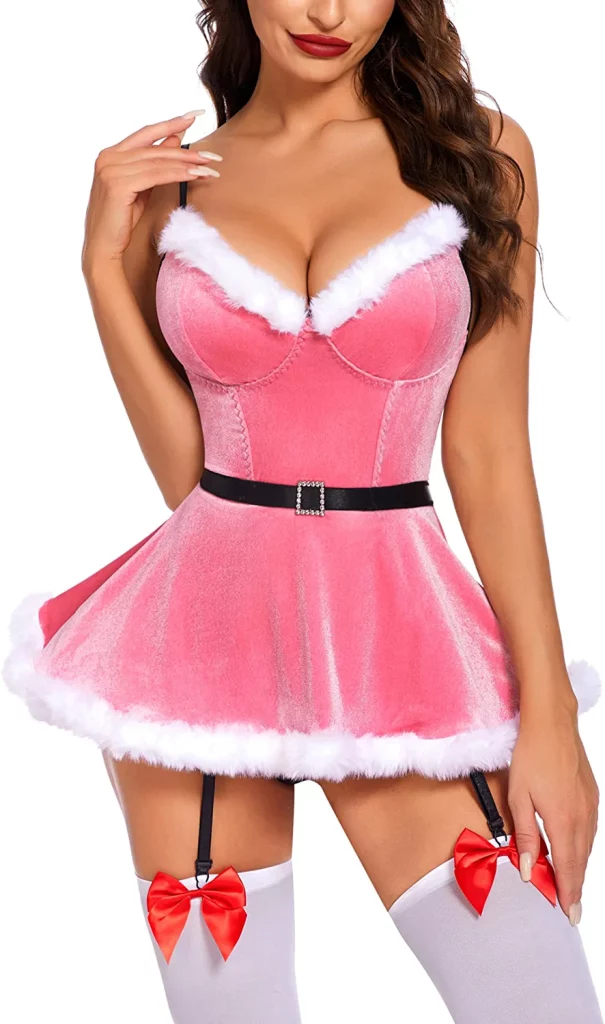 9. The Seamless Mid-thigh-body hug.
Price: $17.99
This is among the sexiest lingerie available; it usually holds up tight, lifts your butt, and supports your chest, making you look seductive and irresistible. It usually comes with seamless construction,  with V-neck and adjustable straps.
Adjustable straps are essential in providing comfort. This lingerie is made from 79% pure nylon and 21% spandex. It is best preserved by machine washing and tumble drying. It comes in Various shades of brown ranging from umber, coffee brown, light brown, and others.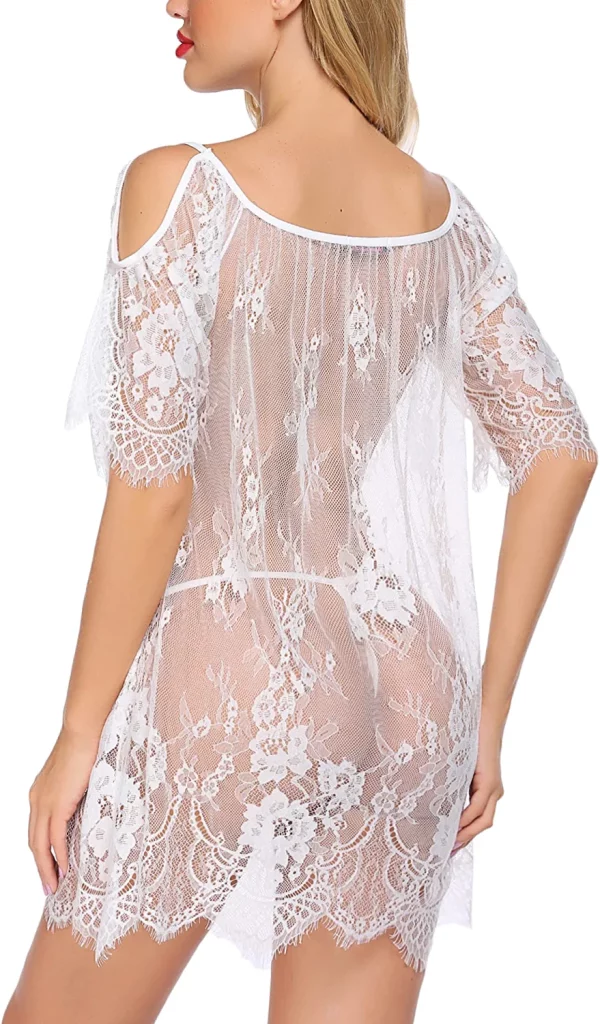 10. Women Chemises Lace Smock Lingerie from Avidlove.
Price: $16.99
This lingerie is made from super soft and smooth lace, making it comfortable to wear anytime without being scared of scratching the Skin. This dress features off shoulder design necessary for showcasing your delicate and attractive shoulders. Floral patterns are all over necessary for igniting more romantic femininity and charm.
This seductive lingerie is suitable for many occasions ranging from the wedding night, lingerie party, honeymoon, valentines day, and bachelorette party. Various colors are available, ranging from blue, green, brown, maroon, milk, white, and others. The availability of many colors is essential in allowing you to choose a color that will make you look stunning, elegant, and attractive.
Conclusion.
Lingeries are essential in making our dresses fit, making us look more confident and attractive. There are various types of Lingerie ranging from pants, bras, crochet, and others. Any lingerie capable of making us look hot and sexy can be called seductive lingerie. Various examples of seductive lingeries include; the seamless Mid thigh body hug, see-right-through body hugs, Victoria's secret seductive crochet, Victoria's secret Lace pants, and others.