Do guys care what you wear on a date? Yes, they really do, and knowing what outfit is most attractive to guys can always win you a second date with him.
I must begin first to tell you that the most attractive outfit you can wear on your first date that a man would like is "Confidence" You must exude confidence. Wearing first-date outfits men like, and having confidence will enhance your attractiveness and increase the comfort of your date.
Also, on a date, you shouldn't strive so much to impress your date. A date is an opportunity to assess your compatibility with the other person.
Four things to keep in mind before getting ready for your first date.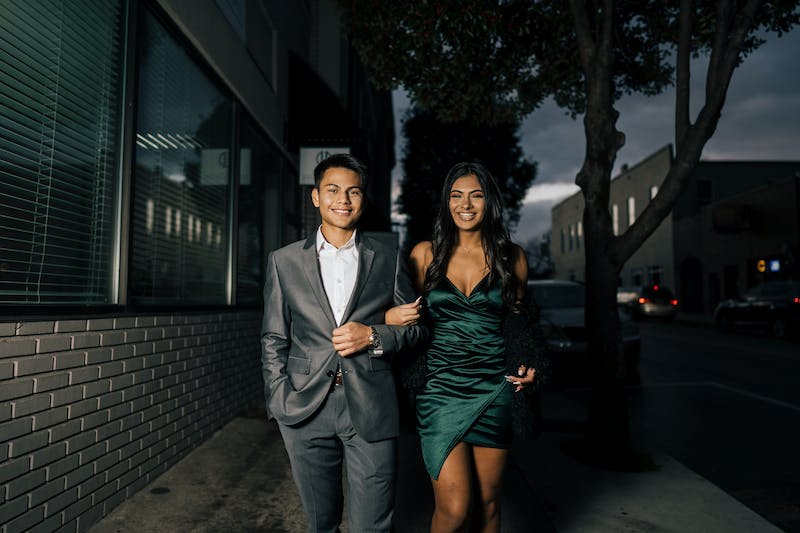 Consider the weather and the scene
Taking into account some of these factors, such as the weather and the dating scene, It would be helpful. If you're going for a walk, for instance, you can wear casual clothing and shoes, but if you're going on a drink or dinner date, you might want to dress up. Just be careful not to overdo it. You can decide on your outfit for the date by asking about the schedule in advance. Please ask him directly without being shy.
Wear what makes you more comfortable
Avoid wearing clothes you are not comfortable in. When trying to make a good impression on the first date, it's necessary for women to feel confident and beautiful in whatever they're wearing. (Brought it in again in case you forgot I mentioned that)
Dress for the occasion.
Dressing appropriately is important on the first date. As a result, you should dress appropriately for the environment. Unfortunately, women's biggest fault is to quickly throw something on while going on a first date.
Get the attire right
Dress in proper attire. Get off on the right foot, unless all you want is to be laid. If you choose your outfit to draw attention, that is what you will get. Your body will be the center of attention, not you. You want him to focus on who you are as a person.
Let him see the real you rather than the one you think will get you a second date. 
Now let's get into it!
10 first-date outfits men like
1. Blouse and jeans or a Sweater dress
If dresses aren't your style, wear your favorite trousers and a lovely puff-sleeve blouse to the date. A pretty pair of jeans, a tank top, and sneakers look great together. The casual outfit of trousers and a top makes a big impression with little work.
For the second you can dress up for your first date with a pair of knee-high boots. You might also use a stylish bag to complete your look. Also, you may wear this style anywhere, not only for casual dates but also concerts.
2. A frilled dress or Shirt dress with a belt
For a daytime date or casual meet-up, a frilled dress coupled with white canvas sneakers. An elegant outfit for a casual first date.
If winter has arrived, camisole tops are not a smart choice either. Everyone can wear this outfit because we all have belts and shirt dresses in our closets. When going on a first date, pick a good short dress that makes you feel better and wear it with thigh-high boots. A belt with wide straps can also be used to dress up and accentuate your physique.
3. Two pieces / A Matching Top and Skirt
One of the hottest first-date outfits is this one. A chic appearance can be achieved with a basic skirt that fits your body well and a camisole that matches. As much as you can, try to keep with simple yet stylish clothing. Easy-to-wear high heels are the best option for this style unless you want to wear flats
4. A body suit and an animal printed pants
When choosing an outfit for a date night, a bodysuit is unbeatable. You can wear it with jeans or black leather pants. But for maximum impact, pair yours with zebra-print pants and any good accessory you have to accentuate your look.
5. Jumpsuits or Romper
You can get dressed up and wear a jumpsuit if you need to leave quickly for a dinner date. You will look casual yet stylish for the first date wearing a stylish jumpsuit that fits your body well. A pair of loops and shiny stilettos will liven up the ensemble.
If you enjoy bohemian or flowery print attire, consider purchasing one and wearing a great pair of gladiators. If you're heading on your first date to a fiesta-themed spot, this look might be ideal.
6. Jacket and a miniskirt 
A miniskirt paired with a jacket (blazer) is a wonderful attire to rock on your first date. To finish the appearance, add mid-length boots. In cold weather, back stockings will keep you warm. Guys find it quite attractive, especially for a first date, because it appears classy and hot.
7. Leather pants and top
For your first date wear sleek leather pants and a turtleneck sweater or top. With this casual attire, you won't appear to have put too much effort, though despite its simplicity it still exudes elegance. For the cool night, ankle boots and a Jacket are excellent additions.
8. A midi-length dress
For a casual meet-up or afternoon date, dress up in a lively, midi-length dress and simply wear your favorite sneakers to complete the look. This comfortable stylish appearance will make a solid first impression. This is one of the simplest first-date outfits that will guarantee you receive lots of compliments.
9. Corset tops and dresses
The corset style should be at the top of your list of wardrobe alternatives if you're choosing your first date attire. The best part about them is that you can wear them for anything from a romantic date night to a casual outing.
10. Satin beautiful maxi dress
Choose a lovely satin maxi dress if you're heading for a romantic meal. If you want to make the outfit more elegant, match it with a great pair of studs or earrings. For this attire, a pair of stilettos or high-heeled pumps are ideal. Throughout the date, you'll feel like a woman in this stylish summer attire.
Over to you
Finally, It's crucial to put less strain on yourself on the day of your date and put your comfort first. Keep in mind that it won't be the end of the world if the date isn't great.